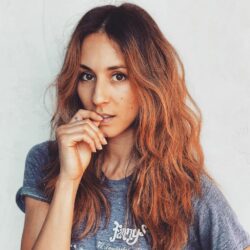 Birthday
October 28, 1985 (37)
Troian Bellisario is a talented actress, writer, producer, and director best known for her breakout role as Spencer Hastings in the hit television series "Pretty Little Liars." Born and raised in Los Angeles, Bellisario comes from a family of artists, including her father Donald P. Bellisario, a well-known television producer and screenwriter.
Bellisario's acting career began in the early 2000s with minor roles in various television shows and movies. However, her breakthrough role came in 2010 when she landed the role of Spencer Hastings in "Pretty Little Liars." The show's success skyrocketed Bellisario's career, and she became a household name, garnering critical acclaim for her nuanced and complex portrayal of the character.
In addition to her work on "Pretty Little Liars," Bellisario has also starred in various other movies and TV shows. Some of her notable works include "Suits," "Lauren," "Feed," and "Where'd You Go, Bernadette." Bellisario has also dabbled in writing, producing, and directing. She wrote and starred in the short film "Exiles," which premiered at the 2013 Sundance Film Festival. In 2017, she produced and starred in the movie "Feed," which tackled the topic of eating disorders and was inspired by her own struggles with anorexia.
One of Bellisario's most significant collaborations was with her husband, actor Patrick J. Adams. The two met on the set of "Pretty Little Liars," and their relationship blossomed into marriage. They have since collaborated on various projects, including the short film "We Are Here" and the podcast "The First Time."
Bellisario has worked with a wide range of celebrities throughout her career. In "Pretty Little Liars," she acted alongside Lucy Hale, Ashley Benson, Shay Mitchell, and Sasha Pieterse. She also starred in "Suits" alongside Gabriel Macht and Meghan Markle. Bellisario has also worked with actors such as Tom Felton, Joaquin Phoenix, and Cate Blanchett.