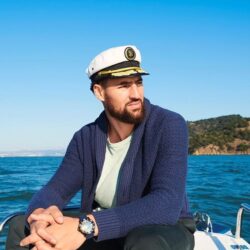 Birthday
February 8, 1990 (33)
Klay Thompson is an American professional basketball player, celebrated for his precision shooting as a part of the Golden State Warriors in the National Basketball Association (NBA).
Known for his pinpoint accuracy and impeccable shooting form, Thompson has been a vital component of the Golden State Warriors' "Splash Brothers" duo, alongside Stephen Curry. His ability to swiftly and efficiently drain three-pointers has not only awed spectators but also led the Warriors to numerous victories. One notable moment in Thompson's career was his record-breaking game in December 2016, when he scored 60 points in just 29 minutes against the Indiana Pacers, demonstrating his incredible scoring ability.
Thompson's career has been marked by significant collaborations with other high-profile players. Foremost among these is his dynamic partnership with fellow Warrior Stephen Curry, with the pair widely regarded as one of the most effective backcourts in NBA history. He also has played alongside Draymond Green, Andrew Bogut, and Kevin Durant, among others, forming a "super team" that won back-to-back championships in 2017 and 2018. Off the court, Thompson has worked with celebrity endorsers and fellow athletes, such as Neymar, Tiger Woods, and Serena Williams, through various charity events and endorsement deals.
Thompson's expertise on the court has earned him various distinctions and titles throughout his career. He is a five-time NBA All-Star, three-time NBA Champion, and was named to the All-NBA Third Team twice as of 2021. Perhaps one of his most significant achievements is holding the record for most points scored in a single quarter, with a staggering 37 points in the third quarter of a game against the Sacramento Kings in 2015.
While Thompson is famous for his on-court exploits, he also has a well-documented love for animals, notably his dog Rocco. Thompson's Instagram is often filled with images of Rocco, who has become something of a celebrity in his own right. Thompson is actively involved in advocating for animal rights and has been a supporter of the Peninsula Humane Society & SPCA, participating in their charity events and fundraisers.