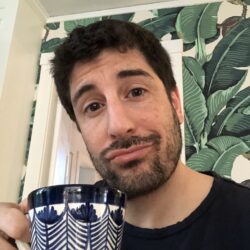 Birthday
May 12, 1978 (45)
Jason Biggs is an American actor and comedian. He's best known for playing Jim Levenstein in the American Pie comedy film series and Larry Bloom in the Netflix original series Orange Is the New Black. Born in New Jersey, Jason began his career in entertainment at a young age, appearing in various television commercials and small roles in films and television shows. However, it was his role as Jim Levenstein in the 1999 comedy hit "American Pie" that catapulted him to fame. The film, which follows a group of high school friends as they try to lose their virginity before graduation, became an instant classic and spawned several sequels, cementing Jason's status as a Hollywood star. The film include other popular actors such as Seann William Scott, Alyson Hannigan, Tara Reid, Shannon Elizabeth, Natasha Lyonne, and Mena Suvari.
Since then, Jason has continued to build on his success with a variety of film and television roles. He has appeared in a number of hit films, including "Loser", "Saving Silverman", and "Jersey Girl", as well as popular television shows like "Orange is the New Black" and "The Good Wife". He has also lent his voice to several animated series, including "Teenage Mutant Ninja Turtles" and "Outmatched", showcasing his versatility as an actor.
Some of Jason's most memorable collaborations was with actor and comedian Eugene Levy, who played his father in the "American Pie" series as well as directors, including Woody Allen, Sarah Jessica Parker, and the Farrelly Brothers, among others.
He's also known for his marriage to New York Times Best Selling author Jenny Mollen.