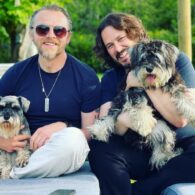 Peter
Edgar Wright has a Schnauzer named Peter, seen here next to Simon Pegg and his Schnauzer Myrtle. Both Wright and Pegg were inspired to get Schnauzers by Ada, the Schnauzer that played Colin on their series Spaced (1999-2001).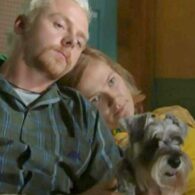 Ada (Colin, the dog from "Spaced")
In Edgar Wright's TV series Spaced, Simon Pegg's character Tim had a pet Miniature Schnauzer named Colin. Colin is played by canine actor Ada, who was born in 1997 and passed away at the age of 12 in 2010. She was trained by Barbara Gash.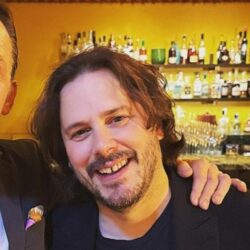 Birthday
April 18, 1974 (49)
Edgar Wright is an English director, screenwriter, and producer who has made a name for himself with his distinctively kinetic visual style and inventive narratives. He made his directorial debut with A Fistful of Fingers before solidifying his presence in the world of cinema with Shaun of the Dead, Hot Fuzz, and The World's End, forming what's popularly known as the "Three Flavours Cornetto" trilogy.
Wright continued to demonstrate his knack for blending genres in Scott Pilgrim vs. the World, a comic book adaptation that combined elements of romance, action, and musicals. His 2017 hit Baby Driver displayed a unique fusion of music and action, proving a hit with critics and audiences alike. In addition to these, Wright has also forayed into documentary filmmaking, with The Sparks Brothers earning critical acclaim.
Throughout his career, Wright has collaborated with numerous high-profile individuals. Simon Pegg and Nick Frost, both recurring actors in his films, have co-written and starred in the Cornetto Trilogy. Actors such as Michael Cera, Mary Elizabeth Winstead, and Aubrey Plaza appeared in Scott Pilgrim vs. the World. His 2017 movie Baby Driver featured Ansel Elgort, Kevin Spacey, Lily James, Eiza Gonzalez, Jon Hamm, and Jamie Foxx. His 2021 horror movie Last Night in Soho starred Thomasin McKenzie, Anya Taylor-Joy, and Matt Smith. Music artists like Beck and Radiohead's Jonny Greenwood contributed to the memorable soundtracks of his films.
Wright's films have earned him recognition from the British Academy of Film and Television Arts (BAFTA), the British Independent Film Awards (BIFA), and the Empire Awards, among others. Shaun of the Dead won him the BIFA for Best Screenplay, while Hot Fuzz and Baby Driver bagged him the Empire Award for Best Director. Moreover, Baby Driver received numerous award nominations, including an Academy Award nomination for Best Film Editing and Best Sound Editing.