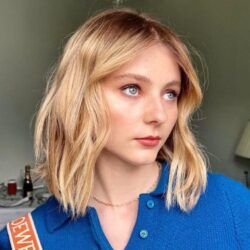 Birthday
July 26, 2000 (23)
Thomasin McKenzie is a New Zealand actress, who emerged as a critical favorite following her powerful performance in the film Leave No Trace.
McKenzie has graced both the big and small screens with her remarkable talent. She landed her first major role in the New Zealand prime-time soap opera Shortland Street, a regular fixture in New Zealand television. However, it was her heartbreaking portrayal of Tom in Leave No Trace that propelled her to international acclaim. Her nuanced performance of a young girl living off the grid with her PTSD-stricken father won over audiences worldwide. This was followed by her starring role in Taika Waititi's Jojo Rabbit, where she played Elsa, a young Jewish girl hidden in the attic of a Hitler Youth member. McKenzie also starred in the period drama The Power of the Dog, directed by Jane Campion, adding another milestone to her career.
Throughout her career, McKenzie has worked with a number of notable figures in the entertainment industry. In Jojo Rabbit, she worked with Scarlett Johansson and Sam Rockwell, both Oscar-winning actors. Her collaborations extend to working with Benedict Cumberbatch and Kirsten Dunst in The Power of the Dog. McKenzie also shared the screen with Anya Taylor-Joy and Matt Smith in Edgar Wright's psychological horror film Last Night in Soho. Her work with Debra Granik, the director of Leave No Trace, was instrumental in her initial breakout and she also worked closely with acclaimed director M. Night Shyamalan in his thriller Old.
McKenzie's skillful acting has not gone unnoticed by the film industry. She was honored with the National Board of Review's Breakthrough Performance award for her role in Leave No Trace. In 2019, she received the San Diego Film Critics Society's Best Supporting Actress award for Jojo Rabbit. She was also nominated for a British Academy Film Award (BAFTA) for the Rising Star Award, an acknowledgment of her growing impact on the international film scene.