 No Pets (M. Night Shyamalan)
M. Night Shyamalan has no pets.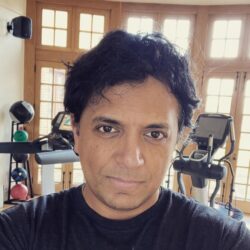 Birthday
August 6, 1970 (53)
M. Night Shyamalan is an Indian-born American filmmaker and screenwriter, noted for his distinctive storytelling style that often involves unexpected plot twists.
Shyamalan has crafted a unique cinematic universe with a diverse range of films, all marked by his signature suspense and surprise. His breakout feature, The Sixth Sense, set the tone for his approach to filmmaking with its unexpected ending and intense performances. He followed this success with other notable films like Unbreakable, Signs, and The Village. More recently, he's known for the thrilling psychological horror films Split and Glass, further establishing his place in the pantheon of suspenseful storytelling.
Over the years, Shyamalan has collaborated with several well-known actors and professionals in the movie industry. He has worked with Bruce Willis and Haley Joel Osment in The Sixth Sense, Joaquin Phoenix in Signs, and James McAvoy in Split and Glass. His collaborations extend to include Samuel L. Jackson in Unbreakable and Glass, and Bryce Dallas Howard and Adrien Brody in The Village. These collaborations have contributed significantly to the unique vision that Shyamalan brings to his films.
His films and storytelling approach have not gone unnoticed by the industry. Shyamalan's The Sixth Sense was nominated for six Academy Awards, including Best Director and Best Original Screenplay. Split was a box office success and was praised for its performances and Shyamalan's direction. His contributions to the film industry have been recognized with the Padma Shri, the fourth-highest civilian award in India.