In a quaint suburb in Paris, France, you can find the world's oldest pet cemetery. It's known as Le Cimetière des Chiens et Autres Animaux Domestiques, which translates to the "Cemetery of Dogs and Other Domestic Animals." It's also referred to as the "Paris Dog Cemetery", but it can be the final resting place of any type of beloved pet. While archeologists have discovered many ancient pet burial sites, this is considered the first official cemetery for pets. It was opened in 1899 on the banks of the Seine river, in Asnières-sur-Seine.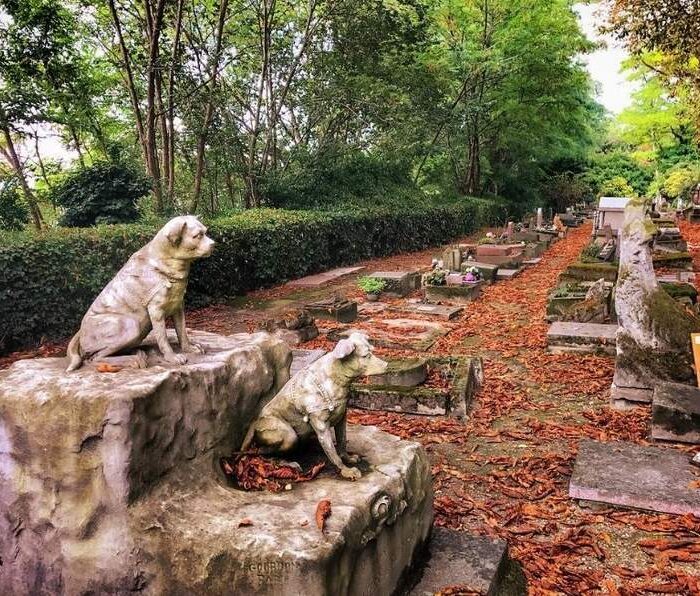 Why was the first dog and pet cemetery established?
The establishment of this unique cemetery dates back to 1899, during a period of rapid urbanization and growing awareness against animal cruelty. Prompted by a Parisian law requiring proper burial for pets, this cemetery emerged not merely as a legal compliance but as a heartfelt endeavor to honor the unbreakable bond between humans and their animal companions. The cemetery was conceived by lawyer George Harmois and feminist writer Marguerite Durand, whose vision went beyond the government-set mandate. They envisioned a place where the cherished bonds between pets and their humans could be honored in a dignified manner.
Celebrity residents of the Paris Pet Cemetery
Over the last century, this cemetery has become home to a collection of celebrity Pets. Rin Tinn Tin, the legendary German Shepherd of the silver screen, is seen below. Rin Tin Tin was rescued from a World War I battlefield by an American soldier, before moving to the United States with him. He went on to become an international icon and appeared in 27 Hollywood films. He's also credited with the popularity of German Shepherds we still see today.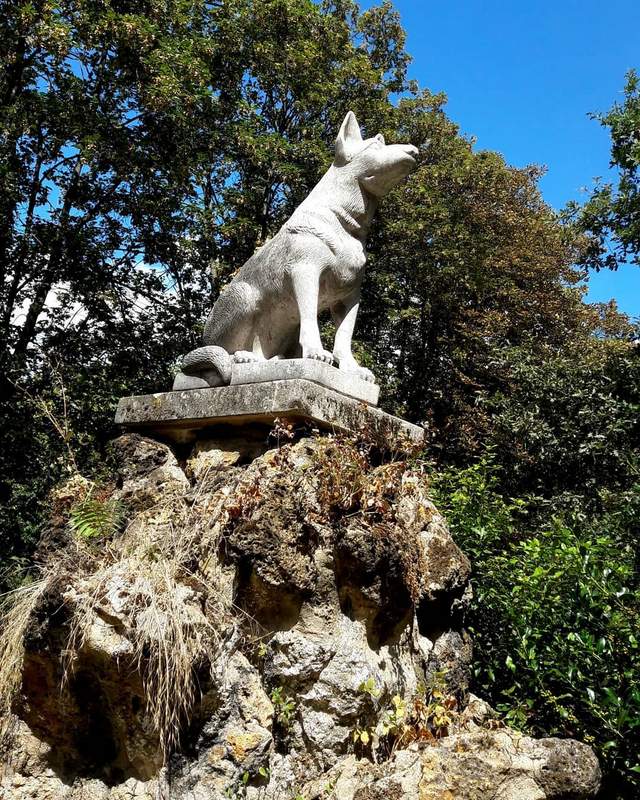 Barry der Menschenretter, known to his friends as just "Barry", is a brave Saint Bernard known for his mountain rescues. He lived from 1800 until 1814, so this is just a memorial to his historic exploits. Barry was credited with saving over 40 human lives over his career as a rescue dog in the Swiss Alps.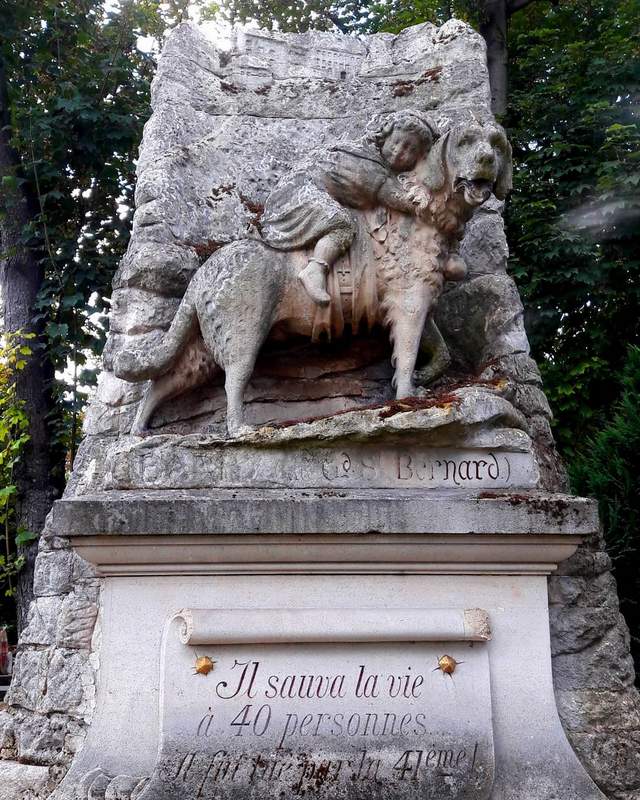 Memere was a World War I hero and trench dog, whose valiant service is immortalised below. Memere is among several war hero doggos buried here. You'll also find the grave of the lion of co-founder Marguerite Durand, who was a notable stage actor and feminist.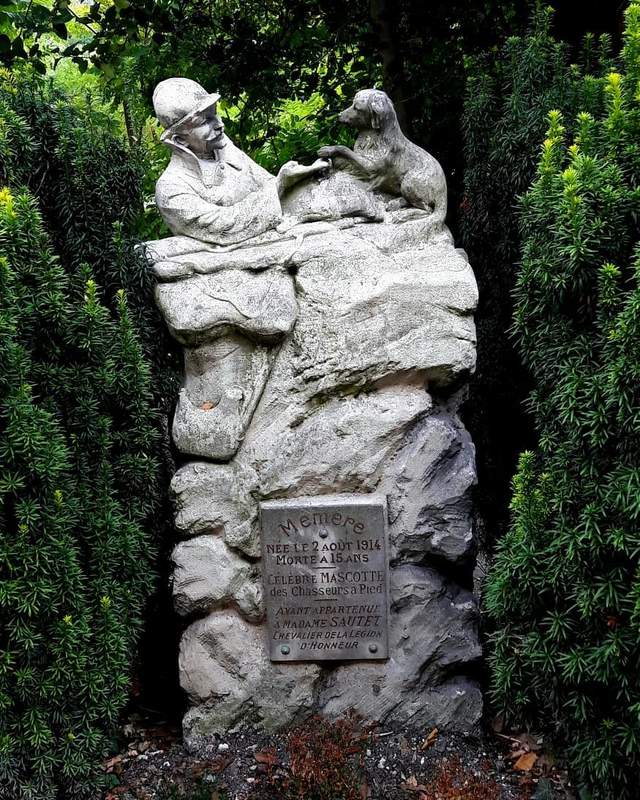 The Paris Pet Cemetery's mission
The intricate ironwork gate guarding the cemetery bears an inscription, "He who has loved animals in life, shall find them again in death," (I'm not crying, you're crying)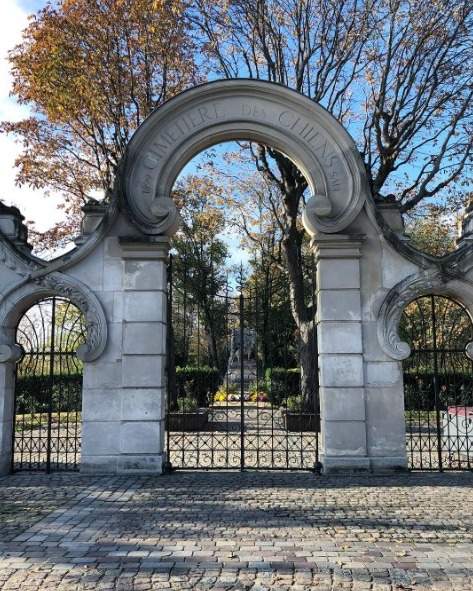 Each grave tells a unique story of companionship and love, resonating with the tales of countless Parisians and their beloved pets of all types from the early 1900s until modern times. You'll also find the grave of the lion of co-founder Marguerite Durand, who was a notable stage actor and feminist.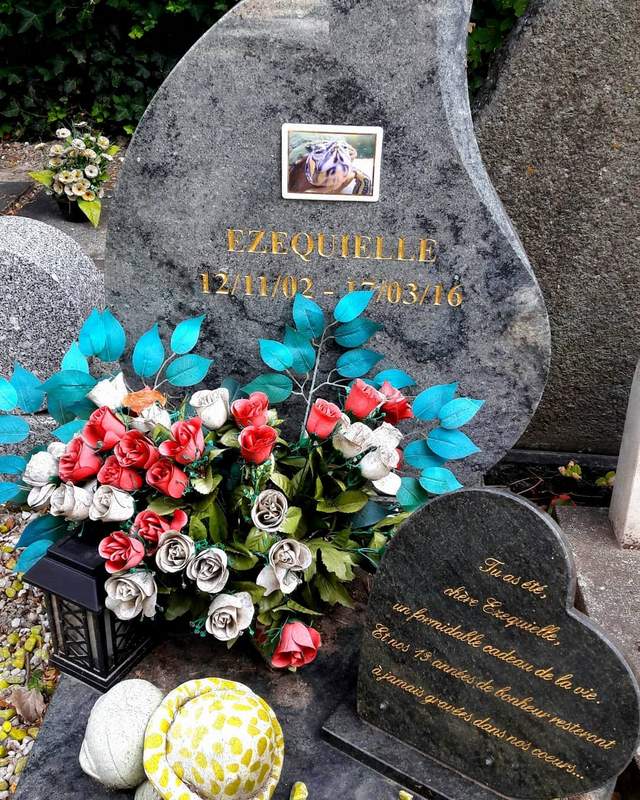 Paris pet cemetery saved and turned into a historical monument
Leading up through the 1980s, the pet cemetery was threatened with being shut down and redeveloped. Local fought to keep it open, and then in 1987, the cemetery was designated as a historical monument by the French government. It is open today for tourists, which you can learn more about here.