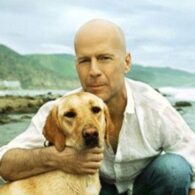 Bella (Dog)
Bruce Willis previously had one dog, a labrador named Bella. He currently has no dogs or pets. Willis is sometimes seen with a chihuahua, which is actually his ex-wife Demi Moore's dog Pilaf.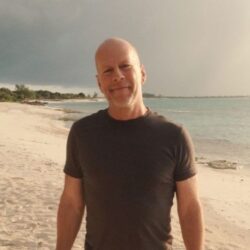 Birthday
March 19, 1955 (68)
Bruce Willis is an American actor best known for his performances in action and thriller films. He gained widespread recognition for his portrayal of John McClane in the "Die Hard" film franchise, a role that solidified his status as a Hollywood leading man. Willis' other notable performances include his role as Butch Coolidge in "Pulp Fiction" and David Addison Jr. in the television series "Moonlighting."
Throughout his career, Willis has collaborated with numerous high-profile artists, athletes, actors, and musicians. He starred alongside Samuel L. Jackson in "Unbreakable" and its sequel "Glass," both directed by M. Night Shyamalan. Willis also worked with Brad Pitt in the science-fiction film "12 Monkeys" and teamed up with Tracy Morgan for the action-comedy film "Cop Out."
Aside from his film and television work, Willis has also made appearances on stage. He made his Broadway debut in the 2015 production of "Misery," based on the novel by Stephen King, and received critical acclaim for his performance as the lead character, Paul Sheldon. In 2018, Willis reprised the role of McClane in a commercial for the battery company, DieHard, which also celebrated the 30th anniversary of the original "Die Hard" film.
Willis has been recognized for his contributions to the entertainment industry, receiving several accolades throughout his career. He won the Emmy Award for Outstanding Lead Actor in a Drama Series for his performance in "Moonlighting" and was nominated for a Golden Globe Award for his role in "Pulp Fiction." Additionally, Willis was inducted into the Hollywood Walk of Fame in 2006.
In recent years, Willis has continued to take on new roles and challenge himself as an actor. He starred in the science-fiction film "Looper" alongside Joseph Gordon-Levitt and Emily Blunt, and appeared in the action-comedy film "Red" alongside an ensemble cast that included Helen Mirren and Morgan Freeman. Willis has also lent his voice to animated projects, such as "The Lego Movie" and "Over the Hedge."
Despite his success, Willis has maintained a low-key personal life, rarely granting interviews and keeping his private life out of the public eye. He has been involved in various philanthropic efforts, including supporting organizations that focus on children's health and education. Willis' impact on the entertainment industry is undeniable, and his versatile acting skills have allowed him to maintain his status as a Hollywood icon for over three decades.
Bruce Willis was previously married to Demi Moore, and they have three daughters: Rumer, Tallulah, and Scout LaRue.