 Cats
Marina Calabró has a couple cats at home.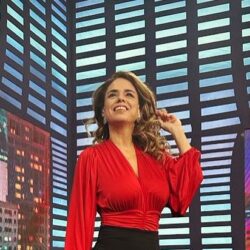 Birthday
December 13, 1973 (49)
Marina Calabró is an Argentine journalist, political scientist, and television presenter whose multifaceted career spans various media channels and topics, from politics to entertainment.
Calabró's introduction to television came in 1990 when she was just 17, debuting on Nuevediario, hosted by Guillermo Andino and Mabel Marchesini. Over the years, she has held diverse roles such as panelist, entertainment journalist, political journalist, and host. She has been part of various TV programs including "Yo amo a la TV," "Hechiceras del espectáculo," "Fama y poder," "Infama," "Intrusos," "El Diario de Mariana," and "Confrontados." In 2023, she has been hosting "8 AM" on "La Nacional+" alongside Débora Plager and Luis Majul, while also occasionally appearing on Alfredo Leuco's program "El Leuco Newspaper."
Calabró has worked with a wide range of individuals from various sectors. On television, she has collaborated with journalists like Guillermo Blanc, Santiago del Moro, Rodrigo Lussich, and Mariana Fabbiani. In 2007, she was also part of "Skating for a Dream," hosted by Marcelo Tinelli, where she met her daughter's father, who was the head coach of the show at the time. In the realm of radio, she has been part of "Lanata sin filtro," hosted by Jorge Lanata, on Radio Miter.
Calabró won the Martín Fierro Award in 2017 for Best Argentine Radio Entertainment Journalist for her contributions to Radio Miter's "Lanata sin filtro."