 No Pets (Sam Chui)
Sam Chui does not have any reported pets.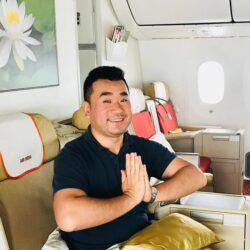 Birthday
November 7, 1980 (43)
Sam Chui is a widely recognized aviation blogger and photographer, celebrated for making aviation accessible and exciting to a broad audience. Hailing from a background where the sky is the limit, Chui has managed to turn his passion for aviation into a profession, effortlessly bridging the gap between enthusiasts and the casual observer.
The core of Sam Chui's work lies in his aviation blogs and photographic endeavors that narrate the story of air travel from a unique vantage point. His in-depth airline reviews, air travel reports, and compelling photography have become a cornerstone in the online aviation community. His website is a haven for enthusiasts, featuring flight reviews and the inner workings of the airline industry, demystifying the skies for his vast audience. Chui's ability to encapsulate the thrill of aviation into digital media has attracted millions, making him a distinguished figure in the realm of aviation blogging.
Over the years, Sam Chui has built a network with other like-minded individuals, industry experts, and aviation professionals. Notable mentions include collaborations with influencers like Jeb Brooks, Noel Philips, and Josh Cahill who are also known for their insightful take on air travel. Besides, he has worked alongside airline CEOs, pilots, and aviation geeks, to name a few, which have further enriched his understanding and portrayal of the aviation industry.
The journey hasn't been without its share of recognition. While the realm he operates in doesn't come with traditional award ceremonies, the real testament to his work lies in the massive following and the trust the aviation community places in him. His YouTube channel, with over 2 million subscribers, and his blog, which sees extensive traffic, are testimony to his significant contributions to making aviation a topic of common discourse.