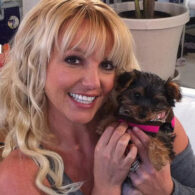 Hannah Spears
Hannah is probably Britney Spears' most iconic dog. Hanna was a Yorkshire Terrier best known for her Twitter antics, and has been a famed pet since November 2012. Hannah has a big bark when it comes to her tweets despite her small size. However, Hannah couldn't handle the fame, and her Twitter profile has since been suspended. This doesn't mean the popular Yorkie has decided to take a hiatus from the life of luxury though. A short while ago, Britney had been reported spending $25,000 on toys, treats, spas, and other dog accessories. It was reported in court documents that Britney spent $8,212 for the initial purchase of Hannah. Hannah has since passed away.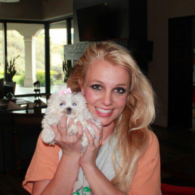 Lacey Loo Spears
In court documents released from her split with her boyfriend, David Lucado, Britney spent $5,568 on the purchase of a Maltese dog in January 2013. That dog is named Lacey Loo Spears and was worth every penny. She keeps Lacey Loo in the latest of doggie fashion and has been known to feed her filet mignon in restaurants. Lacey Loo apparently has had some digestive issues in the past causing her to toot in front of friends and fans. Spears was advised not to give the little pup so many treats. Lacey Loo has since passed away.
Porsha
Sam Asghari gifted a new Doberman puppy named Porsha to his fiancé, Britney Spears in October 2021. Porsha came on the heels of Britney Spears' dognapping controversy (see below). When he gave the pup to Spears, Sam Asghari told her, "Her name is Porsha, and she's meant to unconditionally love you and is going to be trained to protect you from any motherf–kers who come around you with bad intentions." Woof!
After the couple split in August 2023, Asghari kept Porsha.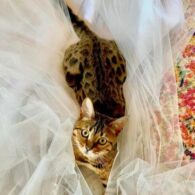 Wendy
In February 2022, Britney Spears adopted a Bengal cat named Wendy. She officially unveiled Wendy on her Instagram in May 2022, with the kitty playing on her wedding dress. Spears said this about her cat on Instagram, "My cat is French and very peculiar … she looks at food as if she is 30 for two min before she eats it … she's extremely smart and she looks like a miniature cheetah 🐆 !!!! Me and security couldn't find her for 2 hours and then when we did she would disappear again !!!!"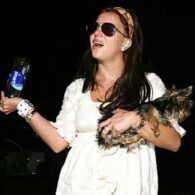 London
Britney Spears used to have a Yorkshire Terrier named London that she got in 2007. She was spotted walking into a Bel Aire pet store to purchase the $3,000 pup. London was known to go shopping and clubbing with Spears, which got the attention of animal rights activists that didn't approve of London's exposure to the chaos of night clubs. Spears Family Dogs
during the late 1990s/early 2000s, Britney and Jamie Lynn Spears had a variety of dogs. They had a Teacup Poodle named Lady and a Pomeranian named Izzy. They had three Rottweilers named Sebastian, Cane, and Spotty. They had two Shih Tzus named Mitzi and Bitzi. They also had several German Shepherd guard dogs.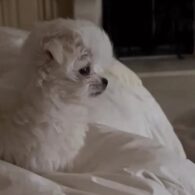 Snow
Britney Spears got a Maltese puppy named Snow in August 2023.
She took to Instagram on Wednesday to make the announcement, offering her fans a first look at the little white dog she's named Snow. Sharing a video of the petite pup as it explored its new surroundings and engaged in some playful antics with Spears, she exclaimed, "Introducing Snow … the new addition to the family."
This tiny furball has seemingly stolen Spears's heart already. In a lighthearted addition to her post, she humorously proclaimed, "It's her world, and we just live in it !!!" It looks like Snow has the pop sensation wrapped around her little paw, and we can't wait to see more of their adorable adventures together!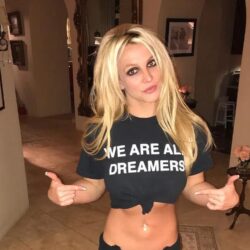 Birthday
December 2, 1981 (41)
Britney Spears, also known as the Princess of Pop, is an American pop idol who came into fame during the late '90s and early 2000s. Besides her incredibly successful singing career, Britney Spears has starred in movies like Crossroads and done a number of cameos. Widely reported on, her conservatorship has placed her and her family at the center in the public eye. Spears' accolades include hundreds of musical awards including a Grammy and at only 21, she was inducted into the Hollywood Walk of Fame. Spears has sold over 100 million records worldwide, making her one of the world's best-selling music artists.
Britney Spears truly needs no introduction — but Britney Spears' dogs might. And remember, this level of fame doesn't come without drama.
Britney Spears Had Her Dogs Taken Away, Then Returned
Britney Spears loves her pups so much she's willing to fight for them.
In August of 2021, Britney Spears' dog sitter and a housekeeper took her dogs to the vet. And then, failed to return them. After the dognapping, the singer allegedly slapped a phone out of her housekeeper's hand. The housekeeper supposedly accused Britney of mistreating her dogs — as if Britney didn't have enough on her plate in 2021. But, the housekeeper broke household rules by taking a photo inside the house, allegedly of the sick dog.
There is speculation that her father, Jamie Spears, had something to do with the dognapping heist. His involvement is unknown but likely, as it happened during the fight over her conservatorship. Britney Spears' dogs have returned to her safely since.
Despite the lack of violence, someone called the cops — an action an insider has called an "exaggerated reaction to the situation." The accusations seem unfounded since Britney reportedly spent $30,000 treating her dogs like royalty in 2014 alone. Eventually, Britney Spears' dogs were returned safe and sound.
Britney Spears' Guard Dog
Her most recent pooch is a Doberman puppy named Porsha, gifted by fiancé Sam Asghari. Porsha is, apparently "trained to protect [Spears] from any motherf**ker that comes around with bad intentions," as cheekily said by Sam Asghari. Porsha came after the dognapping drama with Spears' housekeeper, making you wonder who exactly Sam means by those with bad intentions.
As much as her conservatorship has weighed on her, Britney Spears' dogs are always taken care of.
Britney Spears Dog Bite Incident
In February 2023, two of Briney Spears' dogs, Porsha and Sawyer, escaped her backyard. While on the loose, Porsha the Doberman bit an old man as he got off his bicycle, with Spears' security able to wrangle the dog afterward. On February 25, 2023, Spears' husband Asghari posted on Instagram to thank Dog Day Search & Rescue for finding the two dogs.
The #FreeBritney Movement
The #FreeBritney movement focused on freeing Britney from her conservatorship and releasing her from her fathers' control. The conservatorship began in 2008 but when Britney checked into a mental health facility in 2019, fans raised the alarm. The #FreeBritney movement gained more traction and Britney has publicly stated she wants it to end. And, throughout the whole drama, Britney Spears' dogs have been constant, furry companions.
Notable #FreeBritney celebrity supporters include Cher, Paris Hilton, and Miley Cyrus. The fight for Britney's freedom has resulted in dozens of documentaries, outspoken celebrity support, and widespread interest regarding her conservatorship status.
In 2021, Britney broke from her conservatorship and announced her engagement to Sam Asghari. Her sister, Jamie Lynn Spears, has come under fire for not supporting her sister during her conservatorship. Britney Spears' has made cryptic Instagram posts about her sister and an insider said she does not "feel supported" by her sister.
Spears' Career and Performing with Animals
Britney Spears' long and successful career began when she was eleven-years-old in the Mickey Mouse club alongside Christina Aguilera, ex-boyfriend Justin Timberlake, and Ryan Gosling. She has since performed with the likes of Madonna and collaborated with both Rihanna, Will.i.am, and Iggy Azalea. Britney's performed for close to a thousand shows throughout her career and holds six number-one albums on the Billboard 200. Since Hit Me Baby One More Time shot her to international stardom, Britney has hardly slowed down.
One of Britney Spears' most iconic shows was the 2001 VMA's where she perform Slave 4 U with a python wrapped around her shoulders. The amelanistic Burmese python is often dubbed 'Banana' in tabloids — some say the singer herself nicknamed the snake — however, the actual name of the snake remains unknown. It was reported that Britney was nervous initially to perform with the snake around her shoulders but soon the singer focused and gave one of the most impressive shows of her career.
During that iconic show at the VMA's, Britney Spears also walked out from a cage with a liger inside (that's a half tiger, half lion). That tiger's trainer — Bhagavan "Doc" Antle — is also featured on Tiger King. The controversial docuseries shows Antle's relationship as a mentor to Joe Exotic and has Carol Baskins speak out against him for animal cruelty.
In 2009 under her conservatorship, Britney Spears' Circus international Circus tour took place. While the live shows contained no live animal performers, Spears was still dragged by PETA for her use of them during the VMA's and the Circus music video.
Britney Spears and PETA Controversy
Britney Spears' performance with the Burmese python and liger during the 2001 VMA's sparked controversy with PETA. It's not a surprise, as PETA has come for other celebrities, like Lady Gaga. Other celebrities they support include Bradley Cooper, for casting his pooch during his role alongside Lady Gaga in A Star is Born.
Their website states: "PETA opposes speciesism, a human-supremacist worldview, and focuses its attention on the four areas in which the largest numbers of animals suffer the most intensely for the longest periods of time: in laboratories, in the food industry, in the clothing trade, and in the entertainment industry. We also work on a variety of other issues, including the cruel killing of rodents, birds, and other animals who are often considered "pests" as well as cruelty to domesticated animals."
Britney Spears Collaborations
Britney Spears' collaborations include amazing works with some of the most influential artists in the world.
Britney Spears and Miley Cyrus – SMS (Bangerz): Miley Cyrus described the music as "dirty south hip-hop" and combining the genres of hip-hop and country, which she felt was a "good hybrid". To achieve this sound, Cyrus worked with various hip hop producers including Mike Will Made It, Mac Miller, Pharrell Williams, and Tyler, the Creator. Listen to the Song.
Britney Spears & Rihanna – S&M (Remix): "S&M" is a song by Barbadian singer Rihanna from her fifth studio album, Loud (2010). The song was released on January 21, 2011, as the fourth single from the album. To promote "S&M", Rihanna performed a shortened version at the 31st Brit Awards and sang the remix with Spears at the 2011 Billboard Music Awards. Listen to the Song.
Britney Spears & Madonna – Me Against the Music: It was written by Spears, Madonna, Christopher "Tricky" Stewart, Thabiso "Tab" Nikhereanye, Penelope Magnet, Terius Nash and Gary O'Brien. The song was released on October 14, 2003, by Jive Records, as the lead single of In the Zone. Spears has performed the song in a number of live appearances including the 2003 NFL Kickoff Live, Saturday Night Live, 2003 American Music Awards and TRL. Listen to the Song.
Britney Spears & Iggy Azalea – Pretty Girls: Azalea co-wrote the song with Maegan Cottone, British girl group Little Mix, and the song's producers, The Invisible Men. The single was released on May 4, 2015, by RCA Records. The song was performed live by Spears and Azalea for the first time on May 17 at the 2015 Billboard Music Awards. Listen to the Song.
Britney Spears & G-Eazy – Make Me…: The song features the vocal collaboration of American rapper G-Eazy. The track was written by Spears, Matthew Burns, Joe Janiak and Gerald Gillum, while produced by Burns, with Mischke serving as a vocal producer. Commercially, the song reached top-ten peaks in Finland, Hungary, and Israel while reaching top-twenty in Canada, France, Scotland, top forty in Australia and in the United States where it charted at number seventeen on the Billboard Hot 100 and topped the Dance Club Songs chart. Listen to the Song.