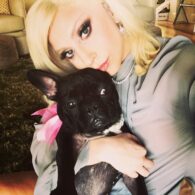 Miss Asia Kinney
With over 230,000 Instagram Followers, Lady Gaga's dog, Miss Asia Kinney, is one of the most famous celebrity dogs in existence. Born February 2014, Lady Gaga adopted her April 2014. In addition to massive Internet fame, Lady Gaga has also secured a modeling contract for her small dog Miss Asia Kinney, with COACH. She can be seen sporting a trendy collar as part of the "Coach Pups" Campaign.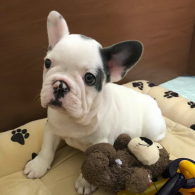 Cowpig / Moopig
This French Bulldog is the 3rd member to join the Gaga clan. He was officially introduced on Instagram – "I'm proud to announce we added a new member to the #JOANNE family," she captioned the image. "I haven't named him yet but I call him both cowpig and moopig in the meantime!"
Stefani Joanne Angelina Germanotta professionally known as Lady Gaga, born March 28, 1986, is an American singer, songwriter, and actress. Her debut album The Fame (2008) was a critical and commercial success that produced international chart-topping singles such as "Just Dance" and "Poker Face". . Most recently appearing Season 5 of in American Horror Story, her career in the Pop music industry began in the mid-2000s. Known best for her over-the-top sense of style, Gaga has gained numerous awards and nominations for a number of singles.