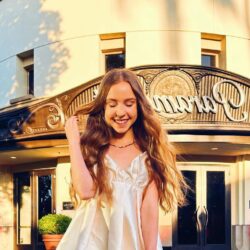 Birthday
April 26, 2002 (21)
Anna McNulty is a Canadian YouTube personality, primarily known for her incredible flexibility and gymnastic tutorials that have captivated a global audience.
Unlike traditional celebrities who find fame through films, television series, or albums, McNulty carved a niche for herself on YouTube, using the platform to demonstrate awe-inspiring flexibility exercises and gymnastics tutorials. With a YouTube channel boasting over 1.5 million subscribers, her videos are a blend of fitness, lifestyle, and gymnastic flair. Her creative content reaches millions and serves as a valuable resource for aspiring gymnasts and fitness enthusiasts alike.
Anna McNulty has not worked in isolation; she has collaborated with a variety of personalities from different sectors to enhance her reach and credibility. These include athletes like Gabi Butler and Sofie Dossi, lifestyle influencers such as Chloe Ting and Maddie Ziegler, and gymnastic coaches like Nile Wilson. Additionally, she has also teamed up with photographers like Jordan Matter for creative projects. Her interactions with dancers like Nia Sioux, Kalani Hilliker, and JoJo Siwa, as well as her collaborative content with beauty vloggers like James Charles and Tana Mongeau.
McNulty has gained sponsorships from renowned brands like Gymshark, acting as a brand ambassador and influencing a new generation of athletes. Her YouTube channel, one of her most significant platforms, has been awarded the YouTube Silver Play Button for surpassing 100,000 subscribers.