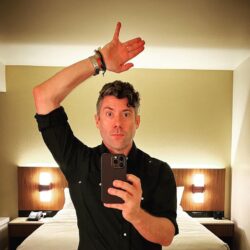 Birthday
February 7, 1975 (48)
Wes Borland is an American musician and visual artist best known as the guitarist of the rock band Limp Bizkit. Originating from Jacksonville, Florida, Borland's presence in the band has been instrumental in crafting its unique sound, blending elements of rap, metal, and alternative rock. His elaborate stage costumes and live performances are equally noteworthy, often capturing the audience's attention and contributing to the band's iconic status.
Borland's career has not only been defined by his work with Limp Bizkit but also through several other projects across the spectrum of entertainment. He has been involved in various bands like Black Light Burns and Big Dumb Face. In addition to music, Borland has lent his creativity to the world of visual arts, painting murals and creating stage props. His artistic pursuits also extend to acting, albeit in a smaller role, making an appearance in the 2000 film "Zzyzx."
Wes Borland has worked alongside an impressive array of musicians and celebrities. Fred Durst, the frontman of Limp Bizkit, and Borland have been a dynamic duo since the band's inception. John Otto and Sam Rivers, also from Limp Bizkit. Apart from his primary band, Borland has shared the stage with Jonathan Davis of Korn, Maynard James Keenan of Tool, Trent Reznor of Nine Inch Nails, Shirley Manson of Garbage, Snoop Dogg, and even Marilyn Manson.
Over the course of his career, Borland has received several distinctions that reflect his contributions to music and visual arts. Limp Bizkit's album "Significant Other" was certified 7x Platinum by the RIAA. He also won several awards for his guitar work, such as being featured in Guitar World's "100 Greatest Guitarists of All Time" list.