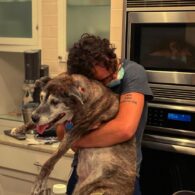 Stella (Dog)
In October 2021, actor Alex Wolff mourned the loss of his dog Stella, sharing her story in an Instagram post. Stella, once a homeless dog surviving on pizza outside a restaurant, was adopted by Wolff's family while in poor health, suffering from a severe thyroid condition. Inspired by Stella, Wolff's mother wrote a film about a family brought together by the loss of a dog, casting Stella in it. Initially, the family was concerned about Stella's health, but under their care, she remarkably recovered and thrived, living much longer than expected.
Alex Wolff is an American actor and musician, best known for his role in the film 'Hereditary' and as a member of the musical duo Nat & Alex Wolff. Wolff's career began in childhood, starring alongside his brother in the Nickelodeon musical comedy series 'The Naked Brothers Band.' This early exposure paved the way for his transition into more mature roles, notably in the horror film 'Hereditary,' where his performance was critically acclaimed. His filmography includes a diverse range of roles in movies such as 'Patriots Day,' 'Jumanji: Welcome to the Jungle,' and 'The Cat and the Moon,' the latter of which he also wrote and directed.
Wolff's collaborations with other celebrities have been a significant aspect of his career. He has worked with Toni Collette and Gabriel Byrne in 'Hereditary,' Mark Wahlberg and John Goodman in 'Patriots Day,' and Dwayne Johnson, Kevin Hart, Jack Black, and Karen Gillan in 'Jumanji: Welcome to the Jungle.' In 'My Big Fat Greek Wedding 2,' he shared the screen with Nia Vardalos and John Corbett. His musical career, as part of Nat & Alex Wolff, involved collaborations with his brother Nat Wolff, and they have released several albums together. Wolff's work in 'The Cat and the Moon' saw him collaborate with Mike Epps and Skyler Gisondo.
Wolff's career has been marked by several notable achievements. For his role in 'Hereditary,' he received critical acclaim and was nominated for a Critics' Choice Movie Award for Best Young Performer. His directorial debut in 'The Cat and the Moon' was also well-received.