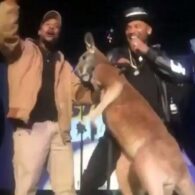 Kangaroo Animal Rights Claim
In April 2017, Mike Epps brought a kangaroo on stage as part of his act and faced major backlash from animal rights activists for making the kangaroo dance on stage in front of a live audience. The show happened during the Joe Louis Arena audience for the Festival of Laughs was recorded and posted online where PETA saw the content and reported the incident.
Mike Epps is an American stand-up comedian, producer, and actor. He played Day-Day Jones in Ice Cube's Next Friday and its sequel, Friday After Next, and also appeared in The Hangover and The Hangover Part III as "Black Doug". He was the voice of main character Boog in Open Season 2, replacing Martin Lawrence, with whom he starred in the comedy Welcome Home Roscoe Jenkins, playing "Reggie", cousin of Roscoe (played by Lawrence). He played Lloyd Jefferson "L.J." Wade in the films Resident Evil: Apocalypse (2004) and Resident Evil: Extinction (2007). He has had starring roles in the sitcoms Uncle Buck and The Upshaws.