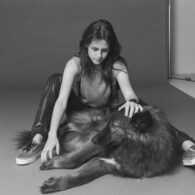 Jack, Lily, Tommy and Lola
In 2014, Twilight star Kristen Stewart ended up with the closest thing she could to a werewolf, a Wolf-Dog Hybrid named Jack. While she denies it has anything to do with the movie, the relationship is hard to deny. Kristen's mom, who already owns four wolves, gifted one to her daughter for her 24th birthday. The pets have been a source of conflict with the neighbors, as one of the activist neighbors has threatened to take the situation into their own hands and release the dogs back to the wild.
Kristen Stewart, born April 9, 1990, is an American actress born in Los Angeles, California. Stewart began in 1999 and landed the role of Bella Swan in The Twilight Saga (2008-2012). The role won her international fame and the films grossed $3.3 billion worldwide. Since then, Stewart has also appeared in a number of notable movies including Advertureland (2009) and Snow White and the Huntsman (2012) alongside Chris Hemsworth.