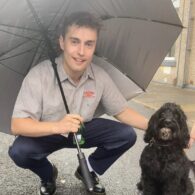 Hundreds of Dogs (Dog)
In a dialogue with Happy, Sam Fender humorously described his ultimate success scenario as inhabiting a home filled with countless dogs:
HAPPY: How would you personally define success as an artist?
SAM: Hmm I dunno, it's a sliding scale, success, for people isn't it? As cringe as it sounds, and this is just a platitude again, I'm just spitting platitudes because that's what most people do… but I think for me success is being able to do the thing that I love comfortably until I've got a house full of dogs. If I can get to the stage where I've got a fuck load of dogs, then I'll be happy. Like, I tell you what. This would be massive success; no mortgage, still writing music and fucking loads of dogs. I mean not fucking dogs, just having loads of them.
You can read the full Interview here.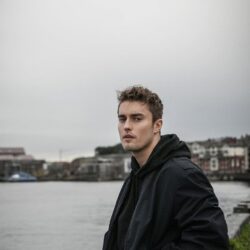 Birthday
April 25, 1994 (29)
Sam Fender is an English musician and actor, celebrated for his profound lyricism and compelling performances that often revolve around social and political themes. His narrative-rich music has not only resonated with a broad spectrum of audiences but also established him as a distinctive voice in the modern music landscape.
Sam Fender's journey into the spotlight commenced with his debut single "Play God" in 2017, which immediately set the tone for his narrative style. His debut album, "Hypersonic Missiles," released in 2019, further encapsulated his knack for storytelling, blending rock with indie elements to explore themes such as toxic masculinity, social inequalities, and youthful exuberance. It debuted at number one on the UK Albums Chart, heralding the arrival of a stirring new figure in the music scene.
Collaboration has been a hallmark of Fender's career, with a notable instance being his work with esteemed producer Bramwell Bronte. Fender has also shared stages with a variety of significant figures in the music industry, including the likes of Elton John, Sting, Bob Dylan, Neil Young, and Johnny Marr. In a charity concert, he also had the opportunity to perform alongside Ed Sheeran, Lewis Capaldi, and Emeli Sandé. His collaborative ventures extend beyond the music realm, as seen in his interaction with actors and public figures such as Kit Harington and Owen Jones.
In recognition of his artistic endeavors, Sam Fender has been bestowed with a Brit Award for Critics' Choice in 2019.