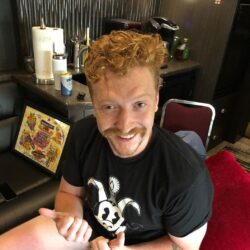 Birthday
June 21, 1991 (32)
Tyler Childers is an American singer-songwriter, gaining prominence through his unique blend of country and bluegrass music, centered around storytelling from his own Appalachian roots.
Starting his career in 2011, Childers self-released his first album "Bottles and Bibles," marking his entry into the music industry. His breakout moment came with the 2017 album, "Purgatory," produced by Sturgill Simpson and David Ferguson, which garnered widespread acclaim. Childers' heartfelt narratives, fused with his authentic country sound, resonated with audiences globally, propelling him to the forefront of contemporary country music. His subsequent albums, "Country Squire" and "Long Violent History," have further cemented his place as a compelling voice in the genre, with songs like "House Fire" and "Universal Sound" becoming fan favorites.
Over the years, Childers' collaborations with other artists have contributed significantly to his sonic landscape. His alliance with Sturgill Simpson on "Purgatory" being one of the most notable ones, alongside the engineering talent of David Ferguson. Childers has also shared the stage with country icons like Ricky Skaggs, Chris Stapleton, and Margo Price. Further collaborations include performances with Robert Earl Keen, John Prine, and Larry Cordle, adding a touch of bluegrass magic to his repertoire. He's also teamed up with musicians like Senora May, John R. Miller, and the Wooks.
In terms of recognition, Tyler Childers' hard work and dedication have not gone unnoticed. His album "Purgatory" peaked at number 17 on the Billboard Top Country Albums chart and reached number 1 on the Heatseekers Albums chart. This success was followed by "Country Squire," which debuted at number one on the Billboard Top Country Albums, showcasing his growing influence in the country music scene. Further highlighting his musical prowess, Childers was named the Emerging Artist of the Year at the 2018 Americana Music Honors & Awards.