As a pet influencer, you are continually seeking out new collaborations, partnerships, and projects where you can continue to expand the reach of your popular sidekick. One website that has been getting a lot of attention is scarfandtail.com. However, with many customers and influencers questioning the legitimacy of the website, the team at CelebrityPets.net decided to conduct an investigation into the popular brand. In this article, we will share our findings and answer the question: is scarfandtail.com a scam? If you're a pet influencer looking to grow your reach through partnerships and collaborations, read on to learn more.
What is ScarfAndTail.com?
Scarfandtail.com is an online store that sells a variety of products, including scarves, hats, and other accessories. The store claims to offer high-quality products at reasonable prices, but many customers are skeptical about the legitimacy of the site based on the reviews. Some customers have reported issues with their orders, including long shipping times, damaged or low-quality products, and difficulty contacting customer service.
A look at their active Instagram shows many pets sporting their scarves.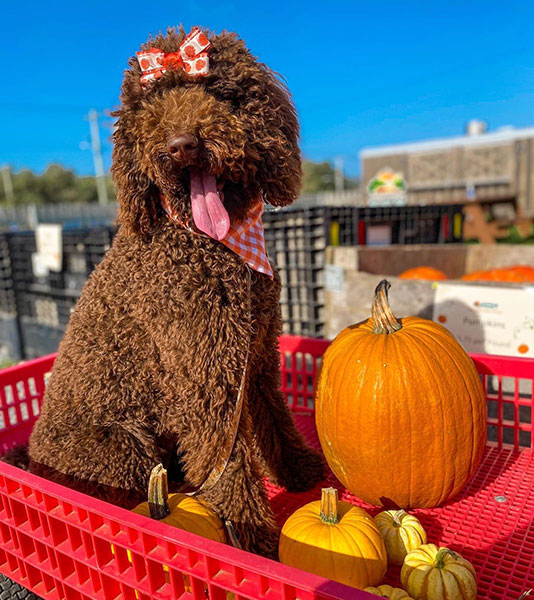 Scarf And Tail DM on Instagram
If you have a pet on your Instagram page and have over 10,000 followers, you have most likely been contacted by someone representing the website to create content for brand in exchange for free merchandise. We were contacted by an account named Kaitlin Blake. Any marketer would immediately be able to tell this account was fake, but we decided to move forward anyway. Growing a brand is difficult, and if this strategy is working without hurting anyone, then more power to businesses looking to grow.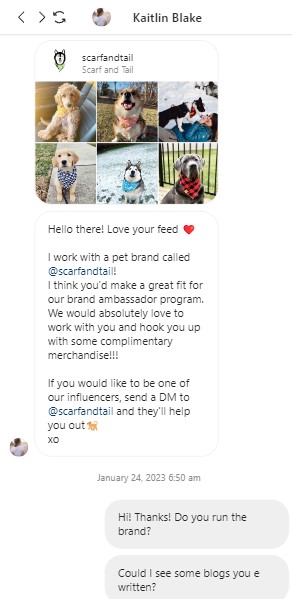 We decided to reach out to ScarfAndTail.com directly since the Kaitlin Blake bot has not been programmed for conversations. We were quite surprised by the automation around the Instagram DMs that the the Scarf and Tail Instagram account had. Within minutes of contacting the business through Instagram DMs, we were immediately led to their website, and given a coupon code to purchase scarves for our pets.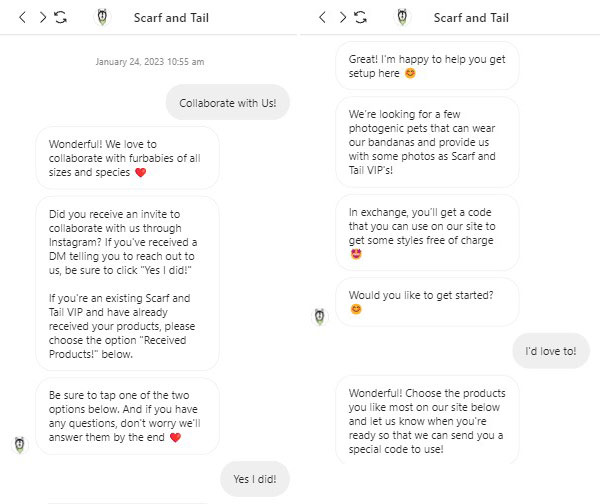 Scarf And Tail Shopping Experience & Shipping Costs
During our ScarfAndTail.com shopping experience, we found that the website was easy to navigate and the products seemed to be of decent quality based on the photos, though they were a bit on the expensive side with most items priced around $30 USD. We did not encounter any major red flags during the shopping process, however, one thing that stood out to us was the exceptionally high shipping costs at checkout, which were also mentioned by many other customers in their reviews. The high shipping costs have led to some customers questioning the legitimacy of the website, and this is something that we will delve into further in this article.
After selecting the recommended 7 items, were presented with a shipping cost of $60.90 USD for the free items. Based in Canada, we are fairly used to International shipping rates. If you are based in the US, these shipping costs would be abnormally high since the business claims to operate out of California.
We would later find out that the products are not manufactured or shipped out of the US. While the website does not claim anything is shipped from the US, the About Us presents the website as a local business founded by a couple pet enthusiasts. Based on the shipping details, the products are shipped from Shenzhen, China by Express Post Internationally which explains the high shipping costs.
ScarfAndTail.com Customer Service
Lets go back a few steps. Anyone that's Google'd the business would immediately see comments like "Good luck getting your product", or "I ordered "free" scarves and paid shipping and never received the scarves…."
Here's a video about paying "full price" for "free stuff":
It seems that the Scarf and Tail Customer Service team has not taken any steps in addressing these concerns online. Their automated marketing bots continue to do the heavy lifting for the business and there isn't much support after the fact.
Needless to say, their Customer Service is non-existent but they may respond eventually. Their FAQ page only has 3 basic questions, and many users commented they had not received their products in months. We decided to get a little aggressive in our communication which eventually lead to a reply apologizing, and we could see the products were shipped the next day.
"Thank you so much for your patience, we are so appreciative of our customers here at Scarf and Tail. I apologize for the delayed response, as I was waiting to hear back from our fulfillment center as to the status of the order. The good news is that we're all set now! Please keep an eye out for an email with your tracking number, as your order is already at the post office, and is slated to be shipped out to you this week! We can't wait to see your furbaby rocking our bandanas! Have a beautiful day and thank you again for your continued support :)"
Review of the ScarfAndTail.com Products
As part of our investigation, we found the quality of the products to be fairly low, with some items feeling cheaply made. However, we did appreciate the fun and unique designs that were available. One issue that we found with the products was that there were no options for sizing, and all of the scarves were fairly small. This meant that most dogs over 80lbs would not be able to fit into their products, which could limit the appeal of the website for pet influencers with larger dogs.
Is ScarfAndTail.com a Scam?
So, is scarfandtail.com a scam? It is difficult to say definitively without trying more purchases. However, there are some red flags that pet influencers should be aware of before deciding whether to work with the company. The lack of transparency about the company and the high shipping costs around the products are both concerning. Additionally, the negative reviews from some customers should not be ignored.
One red flag that pet influencers should look out for when considering scarfandtail.com is the lack of information about the company (Most likely because it is a company in China impersonating a company in California). The site does not provide any information about the company's history, location, or team. There is no "About Us" page or any other indication of who is behind the website. This lack of transparency can be concerning for customers and potential partners.
Based on our investigation and review of ScarfAndTail.com, our overall recommendation is to not work with this website as a pet influencer. While the products are fun and unique, the overall quality is lacking and there are limited options for sizing, which could exclude a significant portion of your audience. Additionally, the high shipping costs at checkout are a major red flag and could potentially cost you more money in the long run. If ScarfAndTail.com is truly interested in working with pet influencers, they should consider covering the costs of shipping or bringing the shipping costs to a more reasonable price. Until then, we recommend looking elsewhere for collaborations and partnerships.