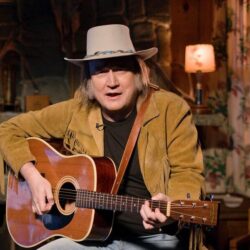 Birthday
November 12, 1945 (77)
Neil Young is a Canadian singer-songwriter and musician who has been one of the most influential figures in rock music for over five decades. He first gained fame as a member of the Buffalo Springfield in the 1960s, and later as a solo artist and with his backing band, Crazy Horse.
Throughout his career, Neil Young has been known for his distinct voice and his ability to write emotionally charged and socially conscious songs. He has released numerous albums, many of which are considered classics, such as "Harvest," "After the Gold Rush," and "Rust Never Sleeps."
Neil Young has collaborated with a wide range of artists and celebrities over the years. Some of his most notable collaborations include working with artists like Crosby, Stills, Nash, and Young, Pearl Jam, and Willie Nelson. He has also worked with filmmakers like Jim Jarmusch, providing the soundtrack for his film "Dead Man."
Neil Young has also been an advocate for animal rights and has supported various animal non-profit organizations throughout his career. He has also been a vocal supporter of environmental causes and has been involved in numerous campaigns and fundraisers for organizations like the Natural Resources Defense Council.
Neil Young has been recognized for his contributions to music with numerous awards and accolades, including induction into the Rock and Roll Hall of Fame twice – once as a solo artist and once as a member of Buffalo Springfield. He has also received a Grammy Lifetime Achievement Award and was named the MusiCares Person of the Year in 2010.