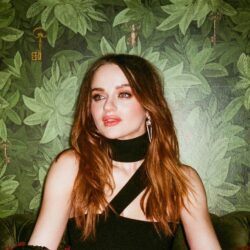 Birthday
July 30, 1999 (24)
Joey King is an American actress, notable for her compelling roles across both the small and big screens, including her breakout performance in the movie "Ramona and Beezus."
Since stepping into the limelight, King has showcased her versatility by diving into an array of genres, ranging from comedies like "Crazy, Stupid, Love" to the horror franchise "The Conjuring." Her dramatic prowess came to full force in Hulu's series "The Act," where she portrayed Gypsy Rose Blanchard.
The web of King's career is spun with meaningful collaborations. Her work with Selena Gomez in "Ramona and Beezus" set the stage for a promising career. She went on to work with A-listers like Steve Carell and Julianne Moore in "Crazy, Stupid, Love," Channing Tatum in "White House Down," and Patricia Arquette in "The Act." Other significant collaborations include James Franco in "Zeroville," Michael Caine in "Going In Style," Zach Braff in "Wish I Was Here," Vera Farmiga and Patrick Wilson in "The Conjuring," Jacob Elordi in "The Kissing Booth," and Molly Ringwald in the same film.
King has won a Young Artist Award for her work in "Ramona and Beezus," proving that she was one to watch from an early age. A Critic's Choice Award nomination for "The Act" testified to her range and depth as an actress. Her work in the series also landed her nominations for both the Primetime Emmy Awards and the Golden Globe Awards.