 No Pets (Casey Affleck)
Casey Affleck is an animal activist and has spoken up against cruelty against animals. He took aim at the big cat industry as well as thee meat industry for their mistreatment of livestock. He does not have any reported pets of his own.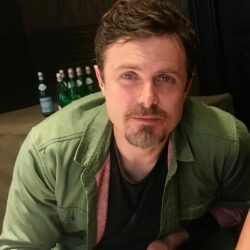 Birthday
August 12, 1975 (48)
Casey Affleck is an American actor. He began his career as a child actor, appearing in the PBS television film Lemon Sky (1988) and the miniseries The Kennedys of Massachusetts (1990). He later appeared in three Gus Van Sant films; To Die For (1995), Good Will Hunting (1997), and Gerry (2002), and in Steven Soderbergh's comedy heist trilogy Ocean's Eleven (2001), Ocean's Twelve (2004), and Ocean's Thirteen (2007). His first leading role was in Steve Buscemi's independent comedy-drama Lonesome Jim (2006).
Affleck's constellation first began to gleam with the 1997 film, Good Will Hunting, a project that saw the young actor working alongside his brother Ben Affleck, and close friend, Matt Damon. The trio had a dynamic chemistry off-screen which translated into an undeniable charisma on-screen. Written by Ben and Matt, the film was a critical and commercial success, taking home an Oscar for Best Original Screenplay. This venture not only set the tone for Casey's career, but also established enduring partnerships that would span multiple decades.
A pivotal moment in Affleck's career came in 2007 when he worked with director Andrew Dominik on The Assassination of Jesse James by the Coward Robert Ford. Sharing the screen with the illustrious Brad Pitt, Affleck delivered a captivating performance, showcasing his profound acting chops. The role garnered him a nomination for Best Supporting Actor at the Academy Awards, cementing his place among Hollywood's elite.
Next in line was his alliance with Scott Cooper, the visionary behind the 2013 film, Out of the Furnace. Cooper's distinct narrative style matched perfectly with Affleck's raw, naturalistic performance. Cooper, ever the craftsperson, played with light and dark in this film, framing Affleck against the brilliant performances of Christian Bale and Zoe Saldana. His performance, visceral and intense, was met with high praise from critics and audiences alike.
Two years later, in 2015, Casey Affleck joined forces with John Hillcoat in Triple 9, an action-packed heist thriller, which boasted a star-studded cast, including Chiwetel Ejiofor and Kate Winslet. Despite the high-octane nature of the film, Affleck's role allowed him to exhibit his range as an actor, blending his emotive performance with the movie's tense, energetic scenes.
In 2016, Affleck would find himself under the directorial command of Kenneth Lonergan, in the film Manchester by the Sea. This was arguably the zenith of Affleck's acting career. Alongside co-stars Michelle Williams and Lucas Hedges, Affleck delivered a harrowing performance of a man haunted by his past. His portrayal won him the Best Actor Oscar, setting a definitive milestone in his acting career. The synergy between Lonergan's poignant storytelling and Affleck's stellar acting created a cinematic experience that was deeply moving and unforgettable.
The most recent addition to this sparkling constellation was in 2021 when Affleck collaborated with director David Lowery for The Old Man and the Gun, starring opposite Robert Redford. Affleck's nuanced performance complemented Redford's charismatic presence on-screen, resulting in a film that was both thrilling and entertaining. The film was met with widespread acclaim, and Affleck's portrayal was seen as a testament to his exceptional talent.