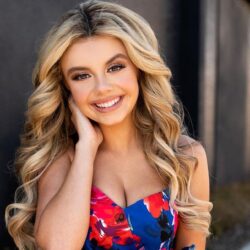 Birthday
January 31, 2005 (18)
Mallory James Mahoney is an American actress who gained widespread recognition for her role in the television series 'Bunk'd.' The Texas-born talent stepped into the limelight at an early age, captivating audiences with her nuanced performances, imbued with depth and versatility.
Mahoney embarked on her journey in the realm of acting with her debut in the independent film 'Dig,' where she played the role of Jamie. The movie paved the way for the young actress to display her skills to a wider audience. However, it was her portrayal of Ainsley Riches on the popular Disney Channel series 'Bunk'd' that catapulted her into the mainstream. She brought a unique blend of charm and sophistication to the character, solidifying her status in the industry. Her performance as Destiny Baker in 'Bunk'd' won over audiences of all ages. Not content to confine herself to television, she branched out into other mediums, starring in films like 'Adventures in Babysitting' and 'Heaven Sent.'
The strength of Mahoney's work can also be gauged by the multitude of collaborations she has been a part of. She has shared screen space with an array of talents, including Peyton List, Karan Brar, and Skai Jackson on 'Bunk'd.' She has also worked with Sabrina Carpenter and Sofia Carson in 'Adventures in Babysitting.' In 'Heaven Sent,' she showcased her talent alongside actors like Christian Kane and Marley Shelton. Other notable collaborations include her work with actors like Miranda May, Will Buie Jr., Raphael Alejandro, and Israel Johnson, all of whom she shared screen space with in 'Bunk'd.'
Mahoney received a nomination for the Young Artist Award for her performance in 'Bunk'd,' a testament to her undeniable talent. This nomination further established her as a formidable young actress in Hollywood.