Lucky
Michelle got a mixed spaniel puppy, which her daughter Matilda fell in love with immediately. Michelle said Matilda wanted to name the puppy something like Crystal, Gem or Diamond. Michelle thought these types of names were better for strippers and wasn't a fan. She was still willing to let her pick the name, but lucky for her, she picked the name "Lucky". Cat and Fish
In 2016, Michelle said that her daughter Matilda's love for animals keeps growing. This led to them adding a cat and some fish to their family. To avoid filling up their apartment with too many real animals, Matilda is also a collector of stuffed animal toys.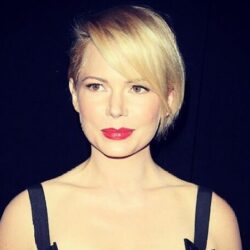 Birthday
September, 9, 1980 (52)
Michelle Ingrid Williams in an American Actress with an estimated net worth of $16 million. Her first feature film role was in 1994's Lassie, with her role in Dawson's Creek (1998 – 2003) gaining her pop culture recognition. She first received critical acclaim for her role 2005's Brokeback Mountain, which starred Jake Gyllenhaal and her late-husband Heath Ledger. This role earned her multiple nominations, including the Golden Globes and Academy Awards. She did go on to win a Golden Globe in 2011 for her portrayal of Marilyn Monroe in My Week with Marilyn. She is also well known for being married to the late Heath Ledger, who she met while filming Brokeback Mountain. They had one daughter together named Matilda, with Ledger passing away from a drug overdose in 2008.