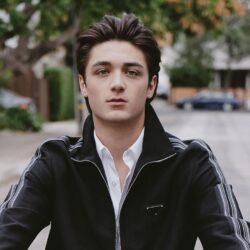 Birthday
September 6, 2002 (21)
Asher Angel is an American actor and singer, who soared to fame with his significant role as Jonah Beck in the popular Disney Channel series, "Andi Mack." Angel's dynamic acting skills and raw musical talent swiftly marked him as a promising force in the entertainment world, all without resorting to the predictable tropes of a "rising star."
Following his breakthrough in "Andi Mack," Asher Angel swiftly moved on to the big screen with his starring role as Billy Batson in the superhero film, "Shazam!" A quintessential example of his versatility, the role of Billy Batson showcased Angel's ability to take on the complexities of a character navigating adolescence while also having to deal with the responsibilities that come with superpowers. The actor's engaging portrayal of Billy Batson was both critically acclaimed and well-received by the audience, establishing him as a performer to watch in Hollywood.
Over his career, Angel's collaborations with other high-profile industry talents have been just as noteworthy. He worked closely with Zachary Levi, who played his superhero counterpart in "Shazam!," developing a compelling on-screen dynamic. Other collaborations include the cast of "Andi Mack," such as Peyton Elizabeth Lee, Joshua Rush, and Sofia Wylie. Off-screen, Angel has worked with industry figures like director David F. Sandberg and composer Benjamin Wallfisch. In music, he has shared a stage with Annie LeBlanc for their duet "Chemistry," and his debut single "One Thought Away" featured rapper Wiz Khalifa.
Angel's talent has been acknowledged in various award events. Notably, he won the Best Performance in a TV Series – Leading Young Actor at the 38th Young Artist Awards for his performance in "Andi Mack." He was also nominated for a Saturn Award for Best Performance by a Younger Actor for his portrayal of Billy Batson in "Shazam!" In 2019, Angel received a nomination at the Teen Choice Awards in the category of Choice Music Web Star.