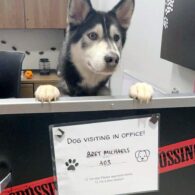 Bret Michaels (Dog)
In October 2023, Bret Michaels adopted a heroic Husky named Bret Michaels (also known as Lil' Bret Michaels and Bret Jr.). On top of sharing the same name, the canine Bret Michaels also saved a kitten via a blood transfusion, which made human Bret Michaels want to adopt him even more. You can read the full story here.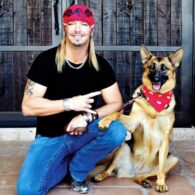 Phoenix (Dog)
Bret Michaels used to have a cherished German Shepherd named Phoenix, who passed away in early October 2023 at the age of 14. Bret Michaels posted the photo shown here to Instagram along with the caption, "Phoenix, I love you and I'll forever miss you. Your family loves you beyond anything you know and I know your brother Diesel is waiting for you to run in those fields of glory. You have been a part of all of our lives for so long and will forever be loved and missed".
His wife Kristi Lynn Gibson posted this tribute to her Instagram, "Our beautiful Phoenix crossed over the rainbow bridge last night surrounded by those she loved the most. Thank you for 14 amazing years of love and protection, you did such a good job. I know my beautiful boy Diesel was waiting there to greet her and it makes me happy knowing they are getting to run and play together again. We miss you so much already my sweet girl. Love you always."
Jorja Bleu, one of the couple's daughters, posted this tribute to Instagram, "Thank you my Phoenix for being the best fur sister a girl could ask for. Thank you for the protection and beautiful memories. You are the strongest most determined soul I have ever come to know. Thank you for the best 14 years. Rest easy my princess. Until we meet again."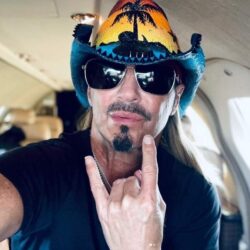 Birthday
March 15, 1963 (60)
Bret Michaels, born as Bret Michael Sychak, is an American singer and musician, known best as the frontman of the rock band Poison, as well as a solo artist. The band has achieved remarkable success, selling over 50 million albums globally and charting 10 singles in the Top 40 of the Billboard Hot 100. Their hits include notable singles such as "Every Rose Has Its Thorn."
Besides his notable venture with Poison, Michaels has explored a solo career, starring in, writing, and directing the 1998 film A Letter from Death Row, for which he also crafted the soundtrack. His solo discography also includes rock albums like Songs of Life (2003) and Custom Built (2010), which clinched the No. 1 spot on Billboard's Hard Rock chart. His television stints have also been quite successful, featuring as a judge on Nashville Star and starring in reality shows like Rock of Love with Bret Michaels and Bret Michaels: Life As I Know It on VH1, the latter inspiring his album Custom Built. Moreover, his victorious stint on NBC's Celebrity Apprentice 3 and his hosting gig on the Travel Channel have further amplified his popularity in the entertainment sphere.
In the realm of collaborations, Michaels has penned hits not only for Poison but also for artists like Stevie Nicks and bands such as Tuff. His collaborative ventures have been quite eclectic, covering a variety of genres from rock to pop. Notable mentions include his 2023 Parti-Gras Tour where he performed alongside Night Ranger and Jefferson Starship with special appearances by Steve Augeri and Mark McGrath. Michaels has collaborated live and on songs with Miley Cyrus, Stevie Nicks, Jimmy Buffett, Charlie Sheen, and many more.