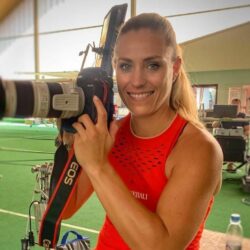 Birthday
January 18, 1988 (35)
Angelique Kerber is a German professional tennis player. She has been ranked as high as world No. 1, for a total of 34 weeks, and won three major titles at the 2016 Australian Open, the 2016 US Open, and the 2018 Wimbledon Championships. She is also an Olympic silver medalist and was the year-end world number one in 2016.
Angelique Kerber made waves with her powerful gameplay and consistent performances. Her breakthrough came in 2011 when she reached the semifinals of the U.S. Open. Since then, she has won the Australian Open (2016), the U.S. Open (2016), and Wimbledon (2018).
Angelique Kerber has had the opportunity to collaborate with various celebrities and coaches like Torben Beltz, Wim Fissette, and Dirk Dier. Her partnerships extend into the corporate world, including endorsement deals with companies such as Adidas and Rolex. Kerber has also been involved in charity events with fellow athletes like Serena Williams, Novak Djokovic, and Rafael Nadal, as well as personalities like Billie Jean King, Boris Becker, and Steffi Graf. She has also been a part of exhibition matches and events with Caroline Wozniacki, Simona Halep, and Maria Sharapova.
Angelique Kerber was the second German woman to achieve the World No. 1 ranking, following Steffi Graf. Kerber was named the WTA Player of the Year in 2016, an acknowledgement of her exceptional skill and accomplishment in that season. She also has an Olympic silver medal from the 2016 Rio Games.