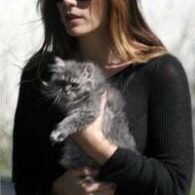 Wabbit
Kate had a cat that sadly went missing at her Los Angeles home in 2012. While on The Tonight Show with Jay Leno, she told the story of how she hired two "pet detectives" for $1,000 to find Wabbit. She said all they did was clog up her bathroom and said her cat was most likely eaten by coyotes. They also found poop, claimed it was her cat and they would analyze it (for more money).
Kathrin Romary "Kate" Beckinsale is an English actress born July 26, 1973 and has an estimated net worth of $16 million. With both parents actors, she had her first role at age 4 in an episode of This is Your Life. Born into acting, she continued her career in her late teens with several small TV roles. Her big break came with a role in the 1993 film version of Much Ado About Nothing.
She moved to Hollywood in the late 90s and started starring in major films, such as Pearl Harbor with Ben Affleck and Serendipity with John Cusack. While continuing to act in small-scale dramas through the 2000s, she is best known for her lead role in the Underworld film series. The first Underworld film was released in 2003, with the sixth and final film in development.
Beckinsale is also a foster mom for rescue puppies, working with Wags and Walks shelters in L.A. and Lisa Vanderpump's Vanderpump Dogs organization.