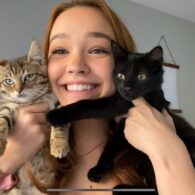 Copa and Gobble (Dog)
Sadie Stanley adopted two cats named in February 2020. She shared the new family members on Instagram.

"I adopted two kittens because I'm an adult and I can do that and because I'm a cat lady but like a cool cat lady😎 the black one came with the name Copa but I also call her Chicken cause I thinks that's a funny name for a cat. The other one came with the name Gobble which fits him perfectly but he also goes by Gobs, Mr. Gobble, and nugget among other names. I got them from @perrys_place_la which is a wonderful organization that has saved so many cats. They were so helpful and have tons of kittens/cats for adoption if ur looking! Mine are loving the apartment and laughing at the girls on the bachelor with me 🥳💃 and yes that is the Kardashians on the tv in the background ok I'm a sucker for reality television and so are my children(cats)."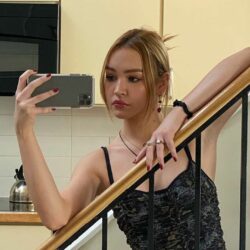 Birthday
November 15, 2001 (22)
Sadie Stanley is an American actress and singer, who began her career as the titular role in the 2019 Disney Channel original movie, Kim Possible. She stars in The Sleepover on Netflix and recent film Let Us In.
Stanley sang an updated version of the Kim Possible theme song "Call Me, Beep Me!" for the live-action movie, in which she also played the titular character. She has also appeared in several shows, including Game Shakers and The Goldbergs. Since 2020, Stanley has appeared on ABC sitcom The Goldbergs as Brea Bee, love interest and girlfriend of the show's main character, Adam Goldberg (played by her Kim Possible co-star Sean Giambrone). She played Parker, girlfriend of Jen's (played by Christina Applegate) oldest son, Charlie, on the second season of Netflix's Dead to Me.