 Friend to Animals
In a nod to Wes Craven by PETA, they released a statement at his passing.
"Wes matched his success on the silver screen with the kindness of his heart, which he extended to animals many times, wishing to spare them the real-life horrors of laboratory experimentation and other forms of cruelty. He put fear into the hearts of those who experimented on dogs and cats condemned for a lifetime to endure pet-food tests, and his monthly column about how wonderful birds are gave every reader tips for how each of us can make the world a less scary place for our feathered friends.
Wes was a friend to PETA and to animals, and we will miss him dearly."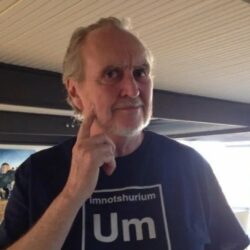 Birthday
August 2, 1939 (83)
Wes Craven (August 2, 1939 – August 30, 2015) was an American filmmaker, screenwriter, and actor who revolutionized the horror genre with his unique style of storytelling and inventive filmmaking techniques. Born in Cleveland, Ohio, in 1939, Craven grew up in a strict Baptist household that prohibited him from watching movies until he was a teenager. Despite this, he developed a fascination with storytelling and started writing short stories and comics at a young age.
Craven's breakout role as a filmmaker came in 1972 with his directorial debut, "The Last House on the Left." The film was a shocking and brutal portrayal of violence and revenge, and it quickly gained a reputation as one of the most controversial films of its time. Craven's use of disturbing imagery and graphic violence set the tone for the rest of his career, as he continued to push the boundaries of what was considered acceptable in horror films.
Craven's next major success came in 1984 with the release of "A Nightmare on Elm Street," a film that introduced the world to the iconic character of Freddy Krueger. The film was a critical and commercial success, and it spawned a franchise that would continue for years to come. The series launched careers for numerous actors and filmmakers following the lead including Heather Langenkamp, Robert Englund, Lin Shaye, and Johnny Depp.
Throughout his career, Craven collaborated with a number of talented artists, authors and celebrities, including actors Drew Barrymore, and Neve Campbell. He also worked with fellow filmmakers Quentin Tarantino and Robert Rodriguez as well as author Dean Koontz. Craven's willingness to take risks and push boundaries inspired a generation of filmmakers, and his impact on the horror genre cannot be overstated.