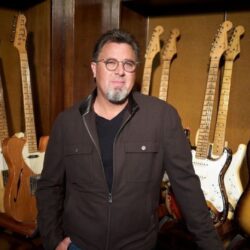 Birthday
April 12, 1957 (66)
Vince Gill is an American country music singer, songwriter, and musician, known for his role as the frontman of the country rock band Pure Prairie League in the 1970s and for his solo career that began in 1983. He has been in high demand as a guest vocalist and a duet partner.
Gill has recorded more than 20 studio albums, charted over 40 singles on the U.S. Billboard charts as Hot Country Songs, and has sold more than 26 million albums. His albums include "When I Call Your Name" (1989), "Pocket Full of Gold" (1991), and "I Still Believe in You" (1992), each of which has achieved significant commercial success. His song "Go Rest High on That Mountain" is a eulogic ballad that won multiple awards, including the CMA's Song of the Year in 1996.
Over the years, Gill has collaborated with a myriad of artists. He worked with Ricky Skaggs in Boone Creek band, David Grisman in a bluegrass album, and Rodney Crowell in Cherry Bombs. He has also collaborated with Tony Brown, Emory Gordy Jr., Joe Walsh of the Eagles, Deacon Frey, Patty Loveless, and Carrie Underwood, among others. Notably, he was invited by Mark Knopfler to join Dire Straits but declined the offer.
Gill has been honored by the Country Music Association with 18 CMA Awards, including two Entertainer of the Year awards and five Male Vocalist Awards. He has also earned 22 Grammy Awards, more than any other male country music artist. In 2007, he was inducted into the Country Music Hall of Fame, and in 2016, he was inducted into the Guitar Center Rock Walk by Joe Walsh of the Eagles.