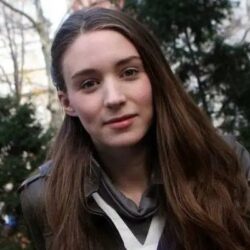 Birthday
April 17, 1985 (38)
Rooney Mara is an American actress primarily celebrated for her role as Lisbeth Salander in the film "The Girl with the Dragon Tattoo." Born into the Rooney and Mara families, she began her career acting in television and independent films, such as the coming-of-age drama Tanner Hall (2009), and gained greater recognition for a supporting role in David Fincher's biographical drama The Social Network (2010).
Among her notable films are "A Nightmare on Elm Street," "The Social Network," and "Carol." However, her role as Lisbeth Salander in "The Girl with the Dragon Tattoo" became a pivotal point in her career, garnering both critical and commercial success. Subsequently, she starred in emotionally challenging roles such as 'Therese Belivet' in "Carol" and 'Mary Magdalene' in the film of the same name. These films enabled her to showcase her versatility and depth as an actress.
Mara is known for her charity work and oversees the Uweza Foundation, which supports empowerment programs for children and families in the Kibera slum of Nairobi. She is also the founder of the vegan clothing line Hiraeth Collective. Mara is in a relationship with actor Joaquin Phoenix, with whom she has a son.
In her journey through Hollywood, Rooney Mara has collaborated with an array of distinguished individuals. She worked with directors like David Fincher in "The Girl with the Dragon Tattoo" and Todd Haynes in "Carol." In "The Social Network," she worked with Jesse Eisenberg, Andrew Garfield, Justin Timberlake, and Dakota Johnson. In front of the camera, she's shared the screen with actors like Daniel Craig, Cate Blanchett, Joaquin Phoenix, Casey Affleck, and Christian Bale, to name a few. Outside of acting, she's worked closely with producers like Scott Rudin, collaborated with musicians like Trent Reznor and Atticus Ross for film scores, and engaged with costume designers such as Sandy Powell. Rooney is the younger sister of Kate Mara.
Her performance in films has earned her multiple awards and recognition. For instance, she received an Academy Award nomination for Best Actress for her roles in "The Girl with the Dragon Tattoo" and "Carol." She also won the Cannes Film Festival's Best Actress Award for her role in "Carol," among several other honors. These awards highlight her commitment to her craft and validate her skill in delivering compelling performances.