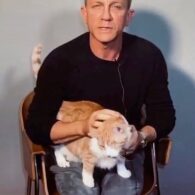 Solomon (Cat)
Daniel Craig has one pet that's a big cat named Solomon. Solomon made this appearance when Craig was asking a question to dame Judi Dench via a video for Vogue Magazine.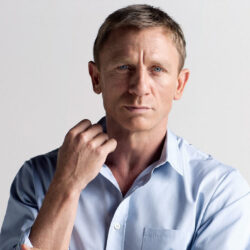 Birthday
March 2, 1968 (55)
Daniel Wroughton Craig is an English actor. He is best known for his portrayal of the iconic fictional spy James Bond. He started training as as an actor at a young age, attending the National Youth Theater and the Guildhall School of Music and Drama. After smaller roles in movies and TV shows, his first big production role was co-starring in Lara Croft: Tomb Raider with Angelina Jolie in 2001. His first major starring role was in the British crime thriller Layer Cake (2004), co-starring Tom Hardy and Sienna Miller, followed up with Steven Spielberg's Munich.
In 2005 he was announced he would appear as the sixth actor to play James Bond, taking over for Pierce Brosnan. First met with doubts by fans and critics, his performance as Bond in 2006's Casino Royale was met with great reviews and ended up being the highest-grossing Bond movie at the time. This was followed by Quantum of Solace, Skyfall and then Spectre in 2015.
Craig's Other notable roles include Defiance (2008), The Girl with the Dragon Tattoo (2011) and Cowboys & Aliens (2010), co-starring Harrison Ford and Olivia Wilde. Craig has also worked with a number of notable celebrities throughout his career, including Oscar winners Javier Bardem and Rami Malek, as well as acclaimed actors like Chris Evans, Jamie Lee Curtis, and Christopher Plummer. Craig is also known for starring as famed detective Benoit Blanc in Rian Johnson's Knives Out (2019) and Glass Onion (2022).
Outside of acting, Craig has also lent his voice to various video games, such as "GoldenEye 007" and "Quantum of Solace."