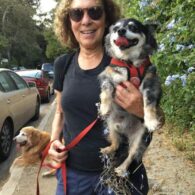 Zorro
Rhea Perlman has a rescued Chihuahua named Zorro, that she also calls Zeus. On her Instagram, she posted the photo seen here, saying, "My '60s flower dog. Zeus!". But the dog's nametag says "Zorro" and has been called Zorro in several interviews. There are photos of Zorry and Danny DeVito together, but Pearlman kept Zorro after they separated.
We found him, he was a rescue. We were at the beach house. It was a miserable pouring night. We were telling ghost stories in front of the fire. Then there's a pause and we hear this ungodly sound which sounds like it's coming from the floor. We were like 'oh my God.' Jake and his friend go out to look. There was that little fluff ball under there. That was 11 years ago.

Rhea Perlman, Celebitchy, May 2019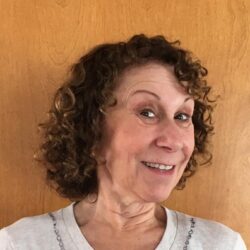 Birthday
March 31, 1948 (75)
Rhea Perlman is an acclaimed American actress, best known for her portrayal of Carla Tortelli on the long-running sitcom Cheers. In 2023, Perlman portrayed Ruth Handler, the inventor of Barbie, in the Barbie movie starring Margot Robbie and Ryan Gosling.
Rhea Perlman's acting career has spanned both the big and small screen. However, it was her role in Cheers, the Boston-set sitcom that ran from 1982 to 1993, where Perlman truly made her mark. As the sassy and sharp-tongued waitress Carla Tortelli, Perlman became a fan favorite, her character's quick wit and fiery temperament resonating with audiences worldwide. Beyond Cheers, Perlman showcased her versatility in various roles across different genres. She took on the role of Abby in the children's television series Matilda and played Honey in the comedy film Canadian Bacon. She also lent her voice to the character of Mom in the animated series We Bare Bears.
Throughout her career, Perlman worked with an array of established artists and personalities, creating memorable screen moments. Ted Danson, her co-star in Cheers, was a frequent collaborator, their on-screen dynamic pivotal to the show's success. Additionally, she worked with the likes of John Candy in Canadian Bacon, and with Danny DeVito, her real-life husband, in Matilda. Other noteworthy collaborators include Mara Wilson, the star of Matilda, and actors Eric Edelstein, Demetri Martin, and Bobby Moynihan in We Bare Bears.
In terms of recognitions and honors, Perlman's work in Cheers earned her considerable praise. She received four Primetime Emmy Awards for Outstanding Supporting Actress in a Comedy Series for her portrayal of Carla, becoming one of the sitcom's most decorated cast members. She also earned a Golden Globe Award for Best Supporting Actress – Series, Miniseries or Television Film in 1985. Her performance in Cheers not only brought her individual success but also contributed significantly to the series' overall acclaim, which included 28 Primetime Emmy Awards and six Golden Globe Awards during its run.
Off-screen, Perlman is a known animal lover and has used her platform to raise awareness about animal welfare issues. She has been involved with animal non-profit organizations, including The Humane Society of the United States, where she has advocated for various causes. In 2011, she and her husband, Danny DeVito, were also honored at the Farm Sanctuary's 25th Anniversary Gala for their commitment to the organization's mission of combating factory farming and encouraging a vegan lifestyle. Furthermore, Perlman has had a variety of pets over the years, and their stories often featured in interviews, further showcasing her passion and commitment to animal welfare.