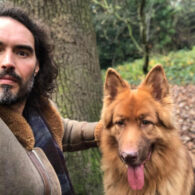 Bear (Dog)
Russell Brand has a German Shepherd named Bear. Bear made headlines in June 2021 for mauling and killing a wallaby (a smaller cousin of the kangaroo) while on a countryside walk near his home in England. Brand was devastated by the incident, but he was able to save the wallaby's baby from her pouch at least. And yes, you're probably wondering how they ran into a wallaby in England. Apparently, a wild population of wallabies has grown in the area since they escaped from a private collection over 20 years ago.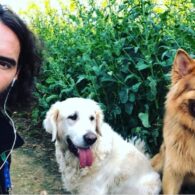 Carly (Dog)
Russell Brand adopted a Golden Retriever named Carly, pictured here with her husband Bear. Carly sadly passed away in September 2022.
Today our dog Carly died. We inherited her from her first owners (who had died) via a mate. She was a lovely dog, all full of spirit and joy and bounce (and farts and night-barking) me and Laura will miss her but carry the love we felt amidst this passing pain. Thanks for her lovely life Unknowable, Unquenchable Cosmic Force that makes all possible.

@russellbrand, Instagram, September 2022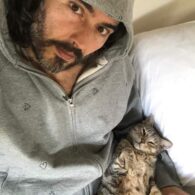 16 Cats (Cat)
Russell Brand's wife Laura mentioned in 2022 that they have 16 cats, which includes rescue cats and a litter of kittens one of them had. He has adopted cats previously as well. Some of their names include Morrissey, Graham, and Jericho. While he was married to Katy Perry, they adopted a cat named Krusty.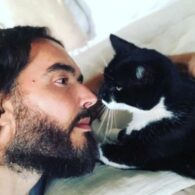 Morrissey (Cat)
Russell Brand's most famous cat was Morrissey. He adopted the tuxedo cat in 2004, and he passed away in 2020 at the age of 16. Chickens and Pigs
Russell Brand and his family have chickens and pigs on their property but note they're all pets, not food (and Brand is an outspoken vegan).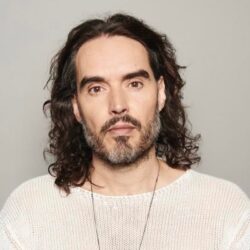 Birthday
June 4, 1975 (48)
Russell Brand is an English comedian, actor, and radio host.
After beginning his career as a comedian and later becoming an MTV presenter, Brand first achieved renown in 2004 as the host of Big Brother's Big Mouth, a Big Brother spin-off. In 2007, he had his first major film role in St Trinian's, and the following year he landed a major role in the romantic comedy-drama Forgetting Sarah Marshall; the film led to him starring in a spin off, the rock comedy Get Him to the Greek, alongside Jonah Hill in 2010. He also worked as a voice actor in the animated films Despicable Me in 2010, Hop in 2011, and Despicable Me 2 in 2013, and played the title character of the 2011 remake of the romantic comedy Arthur. In 2013, he released the successful stand-up special Messiah Complex.
Over the course of his career, Brand has been the subject of frequent media coverage and controversy for issues such as his promiscuity and drug use, his outrageous behavior at various award ceremonies, his dismissal from MTV and resignation from the BBC, and his two-year marriage to singer Katy Perry. He has incorporated many of his controversial public acts into his comedic material. A biographical documentary called Brand: A Second Coming was released in 2015.