Zoe and Meatloaf
Fergie and Josh Duhamel have two dogs named Zoe and Meatloaf that are both Dachshunds. The couple got help from the Dog Whisperer, Cesar Millan, in preparing Zoe for their upcoming baby in December 2020.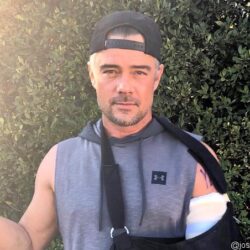 Josh Duhamel is an accomplished actor, director, and producer. He first rose to fame with his breakout role as Leo du Pres on the long-running soap opera "All My Children," and has since gone on to star in numerous films and television shows. One of Josh's most notable roles came in the "Transformers" film series, where he played the character of Captain William Lennox alongside Shia LaBeouf and Megan Fox. The films were a commercial success, grossing billions of dollars at the box officer. He also starred in the romantic comedy "Life As We Know It" alongside Katherine Heigl, and in the drama "Love, Simon" which was praised for its representation of LGBTQ+ youth.
Throughout his career, Josh has starred alongside Jennifer Lopez in the film "The Back-Up Plan," and worked with Julianne Hough on the set of "Safe Haven." He has also collaborated with actors such as Robert De Niro, Hilary Swank, and Stanley Tucci on various projects.
In the Netflix series "Jupiter's Legacy," Josh Duhamel played the role of Sheldon Sampson, also known as The Utopian. The character is a legendary superhero who struggles to navigate the changing times and maintain his ideals, while also dealing with the complicated relationships he has with his family and fellow superheroes. Josh worked alongside a talented cast in the series, including Leslie Bibb, Ben Daniels, Elena Kampouris, and Andrew Horton. His performance was praised for its depth and emotional nuance, further cementing his place as a versatile and accomplished actor in the industry.
Josh's directorial debut was with the film "Buddy Games," which he also produced and starred in. The film tells the story of a group of friends who reunite to play the insane game they invented as kids, and was praised for its humor and heartwarming message.
In addition to his work on screen, Josh is also a passionate animal rights activist and has been involved with several non-profit organizations dedicated to protecting animals. He is a spokesperson for the animal rescue organization PetSmart Charities, and has also worked with the Wildlife Conservation Society and the American Society for the Prevention of Cruelty to Animals (ASPCA).
Josh Duhamel Relationships
Duhamel met and began dating singer Stacy Ann Ferguson, better known by her stage name Fergie, in September 2004 after Ferguson appeared on Duhamel's show Las Vegas with her band The Black Eyed Peas. The couple wed on January 10, 2009, in a Catholic ceremony at the Church Estate Vineyards in Malibu, California. The couple divorced in 2019.