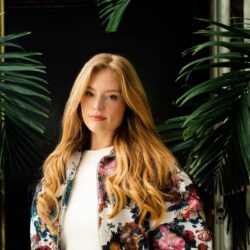 Birthday
April 18, 1994 (29)
Freya Ridings is a distinctive voice in the world of contemporary music, best known for her soulful, raw melodies and deeply emotive lyrics.
Ridings made a significant impact with her self-titled debut album, "Freya Ridings," released in July 2019. The album reached number three on the UK Albums Chart, making her the first female artist to have an album top the charts without featuring any collaborations since 2017. Her heart-wrenching single, "Lost Without You," resonated with listeners around the globe, peaking at number nine on the UK Singles Chart and amassing over 200 million streams on Spotify.
Throughout her career, Ridings has worked with a number of esteemed artists and industry influencers. Her first headline tour in 2018 was fully sold out, showcasing her appeal and ability to connect with the audience. Renowned music producer Greg Kurstin, who's worked with artists such as Adele and Sia, collaborated with Ridings on her 2019 album. She performed alongside artists like Tears for Fears, Hozier, and Lewis Capaldi, and appeared on high-profile television programs, including the Late Late Show with James Corden and BBC's Sports Personality of the Year. Her soulful rendition of Taylor Swift's "Me!" for the BBC Radio 1 Live Lounge further highlighted her unique interpretation of popular songs.
Ridings' music has not only touched hearts but also earned her significant recognition within the industry. In 2019, she was nominated for the BRITs Critics' Choice award, a testament to her talent and the impact of her debut album. Her single "Lost Without You" went Platinum in the UK, a clear demonstration of its widespread popularity and appeal. Additionally, Ridings was nominated for "Breakthrough of the Year" at the Music Week Awards.
Despite her soaring career, Ridings is more than just a music artist. Her deep compassion extends to the animal kingdom, as she's shown through her continuous support for animal rights and welfare. She often uses her social media platforms to share awareness of animal cruelty issues and encourage her followers to make more ethical choices.