Nani
In May 2017, Brendan Schaub brought home a Belgian Malinois named Nani. It's unclear whether Nani is still part of Brendan's household. Historically, Brendan has shown a preference for adopting "working dogs," which haven't always had lengthy stays with his family. Working dogs can indeed be a challenging fit for family life, sometimes causing friction between the four-legged and two-legged residents. Fans have speculated that Brendan may have given Nani away, and they haven't been shy about expressing their concerns, adding an extra layer of public scrutiny to the situation.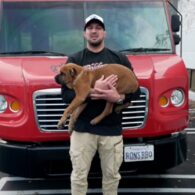 Tank
In January 2023, Brendan Schaub welcomed a Cane Corso named Tank into his family. However, Tank's stay was short-lived, lasting only two weeks before being returned to the breeder. While Brendan claims the breeder wanted Tank back for continued breeding purposes, fans are skeptical. They suspect that Brendan may have been unprepared to manage the challenges of caring for Tank, leading to the dog's swift departure.
Brendan Schaub is an American comedian, podcast host, and former professional mixed martial artist, primarily known for his career transition from the UFC octagon to the comedy stage and the world of podcasting.
Schaub gained visibility in the world of entertainment through his multiple pursuits. He co-hosts "The Fighter and The Kid," a podcast with Bryan Callen that dives into a plethora of topics. Additionally, he hosts "Below the Belt," a web series that dissects the world of combat sports. Not to be confined to one medium, Schaub also took to the stage with his Showtime comedy special "You'd Be Surprised," in which he regales the audience with tales from his fighting days and life's mishaps.
The crux of Schaub's appeal comes from his frequent collaborations with celebrities and artists from different spheres. These collaborations have included Joe Rogan, Theo Von, Chris D'Elia, Tom Segura, Bert Kreischer, Eddie Bravo, Joey Diaz, Will Sasso, Tony Hinchcliffe, and Andrew Santino.
Brendan Schaub's "The Fighter and The Kid" has amassed millions of downloads and has consistently ranked among the top comedy podcasts. His comedy special "You'd Be Surprised" was met with a favorable reception and his appearances on "The Joe Rogan Experience" is one of the world's most downloaded podcasts.