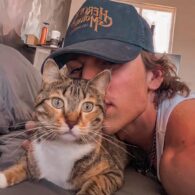 Hera (Cat)
Vinnie Hacker was surprised by his friend Michael in January 2021 with his dream pet. The event was captured on their YouTube channel and the cat was later named Hera.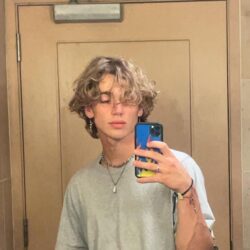 Birthday
July 14, 2002 (21)
Vinnie Hacker is a prominent American digital creator and social media influencer, particularly recognized for his significant online presence and substantial impact in the realm of TikTok.
Gaining popularity for his engaging, humorous, and often high-energy content, Hacker's claim to fame originated from TikTok where he frequently shares short videos, often combining lip-syncing with trendy dance moves. His individualistic style, coupled with his ability to connect with a diverse audience, has earned him a dedicated follower base in the millions, marking his space in the digital entertainment landscape. With a knack for understanding and leveraging the short video format to his advantage, Vinnie has been instrumental in popularizing several TikTok trends.
Vinnie's collaborations with other influencers have been instrumental in his meteoric rise in the digital realm. Notably, he is a member of the content collective 'Hype House,' working closely with other prominent TikTok personalities such as Charli D'Amelio, Chase Hudson, Addison Rae, and Dixie D'Amelio, among others. Besides these, his collaborations extend to a broad spectrum of artists like Avani Gregg, Tony Lopez, Bryce Hall, and Larray. He has also collaborated with conventional celebrities like Will Smith and Jason Derulo, further bridging the gap between traditional and digital entertainment.
Despite his relatively young career, Vinnie has earned a number of significant recognitions. In 2020, he was included in the list of 'Top 10 Breakout Creators' by TikTok. Further highlighting his impact, he was featured in Forbes' '30 Under 30' list in 2022 for his influential role in digital entertainment. His success also extends beyond TikTok, as his YouTube channel garnered a significant audience, earning him the YouTube Silver Play Button.