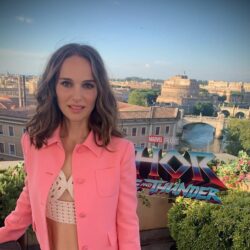 Birthday
June 9, 1981 (41)
Natalie Portman was born Israel and moved to the United States when she was three. From her critical and commercial success as an actor, she has an estimated net worth of $45 million. She got into the entertainment and arts industry performing with dance troupes at age four. She says she developed ambition for her career at a very young age, attending theater camps and auditioning for acting roles at age 10.
She then gained international attention at the age of 12 in 1993, starring in Luc Besson's movie Leon: The Professional with Jean Reno. The next big moment in her career was in 1997, when she was case in a leading role in the Star Wars prequel trilogy. Besides Star Wars, she continued to star other blockbuster movies and more dramatic roles through the 2000s. In 2010, she won an Oscar for Best Actress for her role in Darren Aronofsky's Black Swan. She has also won a Golden Globe, BAFTA Award and Screen Actors Guild award, along with a long list of award nominations.
She is also known working as a model and for several social and political causes. She is a public advocate for animal rights and chose to become a vegetarian at the age of eight. She has been a vegan since 2009 and also released her own brand of vegan footwear in 2007.