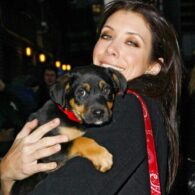 Rosie
Kate Walsh had a beloved German Shepherd mix named Rosie, also known as Rosie Perez, Rose Hound, Rosebud, and Roro. Walsh got Rosie in 2008, with the very good doggo passing away at the age of 15 in April 2023.
Rosie Walsh, aka Rosie The Dog, aka Rosie Perez, aka Rose Hound, Rosebud, Roro has left us after 15 years, 3 months of loyal service. Rosie was born under a house in the Bronx and I adopted her just 8 weeks later as part of a dog adoption campaign with @AnimalHaven in NYC & took her back to Los Angeles to hang out with Lucy, Billy, Pablo & me. (I initially couldn't decide between Rosie and her brother Amico, so when I chose Rosie, my brother Sean adopted Amico and took him home to Seattle)
We had so many amazing years together, from the Hollywood Hills to the dog parks of Los Feliz & Encino, to the snowy mountains of Lake Tahoe, to the beaches of Malibu to the streets of NYC & Washington square park, and finally to Perth, where she has endlessly walked & swam the beaches, the Swan river, and vigorously rounded the cricket oval & trails as if she was expected at the Swanbourne Bridge Club! Rosie had an iron will to live and was my always companion…whenever I could bring her to set I would, and when I couldn't I had the best people looking after her.
She kept Lucy the Dog, Billy & Pablo company until they left this world and I'm so grateful for all she taught me and very, very grateful that she waited for me to come back from LA say goodbye to me snout to snout. I am also incredibly grateful for Mikey Lage (@MrHollywoof), Heather Tobin (@Southern_Spirit_Farm), #CristyDavey and Tina Van Leuven (@UpliftersNation) and all the others who have walked Rosie & loved her so well. And thanks too to all of the wonderful veterinarians all over the world, but especially here in Perth who helped her with her palliative care and eventually her transition at home. I honestly think she was the happiest here in her Western Australia retirement.

@katewalsh, Instagram, April 2023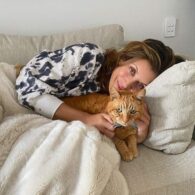 Pablo
Kate Walsh had a ginger cat named Pablo that she got way back in 2005. Pablo crossed the Rainbow Bridge in January 2023 at the age of 18. Pablo also started a career in modeling later in life, when he starred alongside Walsh in ads for Tidy Cats in 2022.
My dear little cat Pablo has left this earth after 18 gorgeous, generous years with me & so many, many other people. I adopted Pablo & Billy when they were 6 weeks…they could both fit on a dinner plate!
He was such a little gentleman, and traveled with me thru so much of my adult life: relationships, house moves, Grey's Anatomy, marriage/divorce, major surgeries, to the love of my life, Andrew.
He brought so much joy to so many…and he was a hard worker: assisting Vicki, Derek & Jess thru the years and always waiting patiently for us humans to settle so he could sit on a lap or hop on your chest.
Pablo was my constant companion.
He was a loyal little gentleman & even managed to do a campaign w/ me for Tidy Cats!
He caught mice in the Hollywood Hills, escaped an attempted owl kidnapping in Griffith Park, took inadvertent 'swims' whilst sunning himself on the edge of the pool in Los Feliz, chased rabbits in Encino, watched the sunset every evening amidst the crashing waves of Malibu, enjoyed city life in Soho & Greenwich village, and eventually retired here in Western Australia where he actually took a walk on the beach, communed with the Willy wagtails/Djiti djitis each morning, spent afternoons napping in the sun & evenings on the patio watching the sunset over the Indian Ocean… he got to explore the Australian bush in wildflower season, meeting interesting Australian insects & critters (cue the blue tongue & the huntsman) and star gazed in the evenings.
He was a loving, respectful roommate to Rosie the dog and has now joined Billy the cat, Lucy the dog & Amico…
I just wanted to share this with all of you, who have liked my cat photos & videos and created accounts for Pablo over the years. That is just so special. I thank you for all the joy you have given & shared with me thru this magical little creature. I also wanted to express my gratitude for all the veterinarians along the way that have taken such excellent care of Pablo, even tho his record was marked for being a 'difficult' patient. and I especially want to thank the doctors and staff at Murdoch Hospital who successfully removed his cancer and gave him a another year and a half here in WA.

@katewalsh, Instagram, January 2023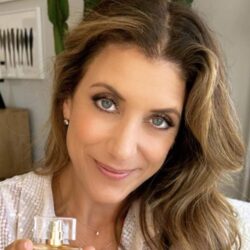 Birthday
October 13, 1967 (55)
Kate Walsh is an American actress who gained notable recognition for her role as Dr. Addison Montgomery in the medical drama series Grey's Anatomy and its spin-off series Private Practice.
Throughout her career, Walsh has starred in a diverse range of film and television productions. She first came into prominence in 2005 as the character Addison Montgomery on Grey's Anatomy. Her compelling portrayal of the complex character led to the creation of a successful spin-off, Private Practice, where she continued in the role from 2007 to 2013. Beyond these roles, Walsh demonstrated her versatility as an actress in other series, like the Netflix Original 13 Reasons Why as Olivia Baker, and in movies like The Perks of Being a Wallflower and Legion. Her stage career also saw considerable success, with notable performances in the off-Broadway play If I Forget and the Broadway play Dusk Rings a Bell.
Kate Walsh's career is peppered with significant collaborations with other high-profile figures in the industry. Notably, she worked with Shonda Rhimes, the creator of Grey's Anatomy and Private Practice. Rhimes' well-crafted characters allowed Walsh to delve deep into her acting skills, earning her widespread acclaim. She worked alongside Sandra Oh, Ellen Pompeo, and Patrick Dempsey in Grey's Anatomy, forming a celebrated ensemble cast. In Private Practice, she shared the screen with renowned actors such as Taye Diggs and Amy Brenneman. In the hit Netflix series 13 Reasons Why, she worked with young talents like Dylan Minnette and Katherine Langford.
In terms of awards and distinctions, Walsh's role in Private Practice earned her a nomination for the Best Performance by an Actress in a New Series award at the Television Critics Association Awards in 2007. Additionally, her performance as Rebecca Wright in the sitcom Bad Judge, which she also co-executive produced, earned her a nomination at the People's Choice Awards for Favorite Actress in a New TV Series. She was recognized by the Prism Awards in 2009 for her performance in Private Practice, receiving the Female Performance in a Drama Multi-Episode Storyline award.
Beyond her acting career, Walsh is a dedicated advocate for animal rights and has been involved with several non-profit organizations. She is known for her work with the Best Friends Animal Society, an organization that aims to end the killing of dogs and cats in America's shelters. She is also associated with Oceana, an international organization focused on ocean conservation, and has participated in various campaigns to protect marine life.