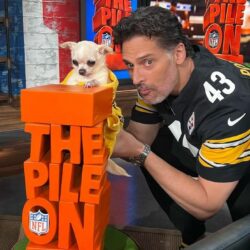 Birthday
December 28, 1976 (46)
Joe Manganiello is an American actor. His professional film career began when he played Flash Thompson in Sam Raimi's Spider-Man. His breakout role came in the form of werewolf Alcide Herveaux in five seasons of the HBO series True Blood. Manganiello is also known for his role in How I Met Your Mother as Brad. In 2017 he won a Mid-Atlantic Emmy as the narrator of the documentary Pittsburgh Is Home: The Story of the Penguins, which documented the first 50 years of history of the Pittsburgh Penguins hockey team. He has worked with many other celebrities, such as Channing Tatum, Amber Heard, Donald Glover, Elizabeth Banks, Arnold Schwarzenegger, and Dwayne "The Rock" Johnson.
In late 2013, he became a published author when his first book, Evolution, was released by Simon & Schuster's Gallery Books.
His directorial debut came in 2014 with the documentary feature La Bare, which he also produced and financed.
He is active with several charities, primarily The Art of Elysium and UPMC Children's Hospital of Pittsburgh for which he serves on the board of trustees.
Manganiello became engaged to actress Sofia Vergara on Christmas Day 2014 after six months of dating. They married in Palm Beach, Florida on November 21, 2015.