 Kamala
Bezos had a dog in the 1990s named Kamala, named after a lesser-known Star Trek character.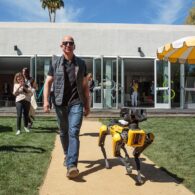 SpotMini - Robot Dog
Bezos was photographed with SpotMini in March 2018, his new robot dog created by Boston Dynamics, the famed American robotics and engineering company. This electric-powered pooch can run for 90 minutes before recharging and weighs around 55 pounds (25 kg). SpotMini made headlines in Feb 2018, when a video of it opening a door despite a human trying to stop it, as a showcase of how robots will eventually take over the world.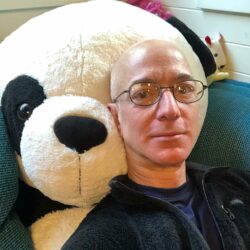 Birthday
January 12, 1964 (59)
Jeff Bezos is an American entrepreneur, investor, and philanthropist. He is best known for being the founder, CEO and chairman of leading online retailer Amazon. With a net worth of $130 billion, he is noted as the world's richest person and the first person to be worth over $100 billion.
Will Jeff Bezos bring his dogs to space next?
In July 2021, Jeff Bezos flew to space in his ship, Blue Origin, and became one of the first billionaires to fly into space on their own rocket. He launched a second flight in October 2021 with William Shatner as part of the crew on the second manned launch. At 90, Shatner was the oldest person ever aboard a space flight.
Now, the only question we have is: Will Jeff Bezos ever bring dogs to space? He's invited Tom Hanks amongst other celebrities but what we really want to see are more astronaut pooches, even if it just Spot Mini the robot dog. And, we know he's cool with them being in the Amazon headquarters.
Bezos' space flight was the second of celebrity space flights with Richard Branson beating him out by nine days. Branson's Virgin Galactic managed heights of 54 miles while Bezos' Blue Origin reached 66 miles. So, if you were going to declare a winner in the epic celebrity space odyssey, you would have to factor in a couple of things. For us, the best celebrity space flight will have to be one with dog astronauts. No question.
Who is Jeff Bezos? A Brief History
Since a young age, Bezos always showed an interesting in science and technology, eventually graduating from Princeton University with Bachelor of Science degrees in computer science and electrical engineering. After graduating, he found work in telecommunications and then banking.
After finding success in banking through his 20s, he left to launch his first online venture with an online bookstore named "Amazon" out of his garage. He always planned to expand from books to other products, eventually doing so through capital raised in 1998. After several rough years in the early 2000s, Amazon eventually turned around in 2003 and has grown steadily since. He is also known for founding Blue Origin, a human spaceflight startup and for buying The Washington Post for $250 million cash in 2013.