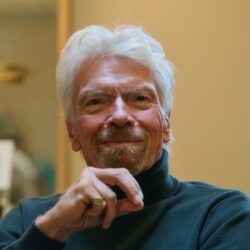 Birthday
July 18, 1950 (73)
Richard Branson is a well-known British entrepreneur and philanthropist, chiefly known as the founder of the Virgin Group, a conglomerate comprising over 400 companies spanning multiple sectors.
In the business world, Branson is best known for his fearless entrepreneurship and innovative spirit. He founded Virgin Records in the 1970s, which later grew to become a major global record label. His subsequent ventures have spanned an impressive range of industries, including aviation with Virgin Atlantic, telecommunications with Virgin Mobile, and space tourism with Virgin Galactic. He has also made a notable impact on the transportation industry with his high-speed rail company, Virgin Trains. Branson's ventures always push the envelope, reflecting his personal motto, "Screw it, let's do it."
Throughout his career, Branson has rubbed shoulders and formed partnerships with numerous celebrities and influential individuals. Musicians such as The Rolling Stones, Janet Jackson, and The Spice Girls have been part of the Virgin Records roster. He has worked with international leaders such as Nelson Mandela on global humanitarian initiatives. Furthermore, his company Virgin Galactic has attracted interest from celebrities like Leonardo DiCaprio and Justin Bieber, who have signed up for future space flights.
Branson's impressive career has been acknowledged with a host of distinctions and recognitions. He was knighted by Prince Charles in 2000 for his services to entrepreneurship. In 2009, he was listed in Time magazine's "Top 100 Most Influential People in The World." His commitment to sustainable business practices led to Virgin Atlantic winning the Sustainable Tourism Award from the British Travel Awards in 2017.
Aside from his professional achievements, Branson is also known for his commitment to animal welfare. As an advocate for animal rights, he has supported several animal welfare initiatives and organizations. His private island, Necker Island, serves as a sanctuary for a variety of endangered species, reflecting his personal commitment to conservation and animal welfare.