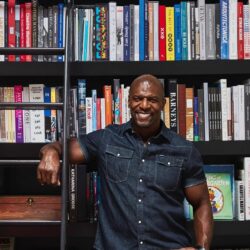 Birthday
July 30, 1968 (55)
Terry Crews is an American actor, artist, and former football player. He's well-known for his roles as Julius Rock on the sitcom Everybody Hates Chris (2005-2009) with Chris Rock, Nick Kingston-Persons in Are We There Yet? (2010-2013) with Ice Cube, and NYPD Sergeant Terry Jeffords in Brooklyn Nine-Nine (2013-present) with Stephanie Beatriz, Melissa Fumero and Chelsea Peretti.
Crews appeared in films such as White Chicks (2004), Idiocracy (2006), Bridesmaids (2011), and the Expendables series (2010, 2012, 2014). He has also hosted the game show Who Wants to Be a Millionaire (2014-2015) and starred in the reality series The Family Crews (2010-2011). Crews has made appearances in music videos including Swish Swish with Katy Perry and Nicki Minaj and These Walls with Kendrick Lamar.
During his professional football career in the NFL, Crews played as a defensive end and linebacker for the Los Angeles Rams, San Diego Chargers, and Washington Redskins.
Crews married Rebecca King a former beauty queen and gospel singer in 1990. They have three daughters, Azriel (born 1990), Tera (born 1999), and Wynfrey (born 2004), and one son named Isaiah (born 2007). Crews has one step-daughter, Naomi (born 1989) and a granddaughter. Crews is a practicing Christian, hobby painter, and sketch artist. He has also written and released his autobiography Manhood: How to Be a Better Man or Just Live with One (2014).