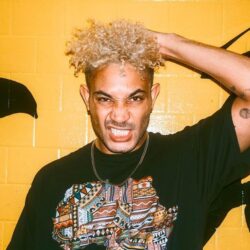 Birthday
June 16, 1988 (35)
Bryce Vine is an American rapper and singer-songwriter, celebrated for his distinguished pop-infused hip hop sound that emerged in the mid-2010s.
Initially coming into public view as a contestant on 'The Glee Project,' Vine swiftly captured the attention of fans and critics alike, carving out a distinctive place in the music industry with his unique blend of genres. The release of his debut EP, "Lazy Fair," in 2014 marked his arrival on the music scene, featuring the viral hits "Sour Patch Kids" and "Guilty Pleasure." Vine's ascent to prominence was solidified in 2018 with his breakout single, "Drew Barrymore," which scaled the heights of the Billboard charts. His first studio album, "Carnival," released in 2019, further affirmed his capabilities as a compelling storyteller and musician, with tracks like "La La Land" and "I'm Not Alright" resonating deeply with audiences globally.
Vine's career has been marked by an impressive array of collaborations with renowned artists and industry heavyweights. His work with rapper YG on the hit single "La La Land" is a notable instance of this, fusing Vine's catchy pop hooks with YG's raw hip hop style. Collaborations with other artists such as Feder, Dan Caplen, and Andrew Fedyk and Joe Depace of Loud Luxury have also shaped his musical journey, reflecting his adaptability across different musical genres. Vine's work extends beyond music as well; he has appeared on television shows such as 'Late Night with Seth Meyers' and 'The Kelly Clarkson Show,' showcasing his charisma to a wider audience.
Throughout his career, Vine has been recognized with several distinctions. His single, "Drew Barrymore," achieved Platinum status in the United States, Canada, and Australia, an emblem of the song's widespread resonance. His track "La La Land" earned Gold certification in the US, another testament to Vine's impact on contemporary pop and hip hop. Vine's memorable performances at festivals such as the Life Is Beautiful Music & Art Festival and the Billboard Hot 100 Music Festival, in addition to his engaging presence on tours with MAX and Timeflies.