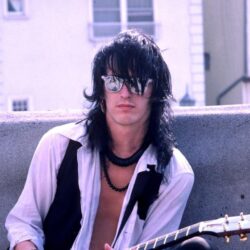 Birthday
April 8, 1962 (61)
Izzy Stradlin, an American guitarist and songwriter, is best known for his role as a founding member of the rock band Guns N' Roses. His contributions to the band's classic lineup helped shape the sound of hard rock in the late 1980s and early 1990s. Stradlin's rhythm guitar work and songwriting were integral to the band's success, particularly on their seminal album "Appetite for Destruction."
Stradlin's career, while most prominently linked with Guns N' Roses, extends beyond this association. After leaving the band in 1991, he embarked on a solo career, releasing several albums that showcased his talents as a guitarist and songwriter. These albums, including "Izzy Stradlin and the Ju Ju Hounds" and "Ride On," received critical acclaim for their blend of rock, blues, and country influences.
Collaboration has been a hallmark of Stradlin's career. He has worked with a variety of artists, including Axl Rose, Slash, Duff McKagan, Steven Adler, Matt Sorum, Gilby Clarke, Rick Richards, Jimmy Ashhurst, Charlie Quintana, and Taz Bentley. These collaborations, particularly with fellow Guns N' Roses members, have produced some of the most iconic music in rock history.
Throughout his career, Stradlin has been recognized for his contributions to music. Guns N' Roses led to the band's induction into the Rock and Roll Hall of Fame in 2012. This honor underscores the lasting impact of his contributions to the band and the rock genre as a whole.