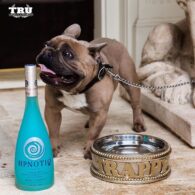 Trappy
Trappy S. Goyard is 2 Chainz's famous French Bulldog that he got in early 2015. He has appeared in many episodes of Viceland's show hosted by 2 Chainz called Most Expensivest and in two of 2 Chainz' music videos, "Not Invited" and "Grey Area". Trappy works out, eats well, flies first class and spends lots of time in the studio, like his human. He's also into breeding, with people putting $10,000 just for a deposit on one of his puppies.
Trappy sadly passed away in June 2023, which you can read about here.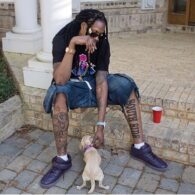 Chihuahua, Pitbull and another French Bulldog
Trappy is 2 Chainz main dog, but he does have another frenchie that is looked after by his kids. He says Trappy is more like him and his other frenchie shares his personality with his kids. He also has a chihuahua that pops up occasionally on his Instagram. He has said he owns a pitbull but hasn't shared any more info.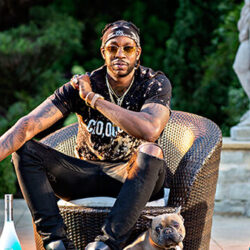 Birthday
September 12, 1977 (45)
Tauheed Epps is better known as 2 Chainz and previously known as Tity Boi. He is a known dog lover, having several of his own. His favourite dog, Trappy, is a French Bulldog that cost a whopping $100,000. He is famous for his music career as a hip hop artist and had a several year stint as a host for the television series on Viceland called Most Expensivest.
2 Chainz started his music career as part of the hip hop duo Playaz Circle in 1997. After releasing an independent album in 2002 they were introduced to Ludacris. They recorded several songs together with Ludacris and they signed with his label. They released their debut album Supply & Demand in 2007 and in 2010 filmed the music video "Big Dawg" with Lil Wayne and Birdman.
In 2011, 2 Chainz released the mixtape T.R.U. REALigion, which saw the start of his mainstream success. In 2012, he signed to Kanye West's label GOOD MUSIC. He has since collaborated with recording artists such as Drake, Nicki Minaj, Ciara, Pusha T, T-Pain, Pharrell Williams and more.
Trappy's Rise to Fame
Trappy's story began while 2 Chainz was hosting a television series on Viceland called Most Expensivest where he uncovers all of the extravagant ways the 1% enjoys spending money (and yes, it's just as crazy as it sounds). In one episode, 2 Chainz meets with some ultra expensive dog breeders and is introduced to an incredibly expensive French Bulldog named Micro Machine. After bonding hard with the Frenchie, 2 Chainz made a deal with the breeders to have Micro Machine father a Frenchie of his very own.
Trappy is heavily featured alongside 2 Chainz throughout Most Expensivest. "Doggy Style" (S01 E03) is arguably the episode that sparked nationwide attention on the petite beige Frenchie when he fell asleep mid-interview on The Tonight Show with Jimmy Fallon. There's also an extended episode solely documenting a day of luxury that 2 Chainz provides for Trappy. The episodes features Trappy's visit to an upscale pet hotel where he gets his own suite (obviously) and spends the day at a doggy spa.
Just how much is too much for your pet's birthday cake? Apparently the sky is the limit for 2 Chainz' pet pooch. In an episode that features Cake Boss, 2 Chainz wants to treat Trappy to a professionally made doggy cake for his third birthday. Extravagant ideas flow between the Cake Boss and 2 Chainz with mentions of "the best meats, Louis the XIII, high flyin', Mercedes driving". The final result? An uncomfortably realistic bone-in ribeye cake that sets 2 Chainz back a staggering $12,000 (the friend price, since it would originally be $15,000 for any other average Joe).
Music Video Pooch
Trappy can be seen featured in a couple of his father's music videos. In 2016 the pooch made his music video debut in 2 Chainz' "Not Invited" where he explores an Atlanta mansion party. Trappy thoroughly enjoys the night, taking a ride on a hoverboard and even having a lady dog to hang out with.
In 2021, Trappy appears in another of 2 Chainz' music videos, this time taking things a step further by swapping bodies with his owner. "Grey Area" starts with the two pals hanging out on the couch when things take a turn after they consume a special psychedelic smoothie prepared by 2 Chainz.
Trappy's life has been nothing short of a wild ride. When he's not traveling first class around the world alongside his dad, he's living a lavish and comfortable life in Atlanta where he eats well and spends lots of time in the studio. At just a few years old, Trappy's pet worth already exceeds $500,000.
2 Chainz Collaborations
2 Chainz' collaborations includes amazing works with some of the most influential artists in the world.
2 Chainz and Jason Derulo – Talk Dirty: The song was released as the second single from his third studio album, Tattoos (2013), in Europe and Australia. Derulo's third studio album was retitled Talk Dirty for its US release. Upon its release, "Talk Dirty" received mixed reviews from music critics, though was an worldwide success. The song reached the top position in Australia, Germany, Israel, and the United Kingdom, while also reaching the top 10 in Austria, Canada, Denmark, Finland, France, Hungary, Ireland, the Netherlands, New Zealand, Norway, Sweden, Switzerland, and the United States. Listen to the Song.
2 Chainz & Big Sean, Pusha T & Kanye West – Mercy: The song, released April 3, 2012, serves as the lead single from the compilation album Cruel Summer (2012). Mercy peaked at number 13 on the US Billboard Hot 100 and hit number one on both the US Billboard Hot Rap Songs and Hot R&B/Hip-Hop Songs charts. The song has since been certified quadruple platinum for four million digital sales in the US as of August 2016. Listen to the Song.
2 Chainz & Eminem – Chloraseptic (Remix): It was written by Eminem, Mr. Porter, Mark Batson, Erick Sermon, and Parrish Smith, with production handled by Mr. Porter. The song was featured on Eminem's ninth studio album Revival, released on December 15, 2017. A remix was released on January 8, 2018, featuring new guest verses from rappers 2 Chainz and Phresher, as well as Eminem himself. Listen to the Song.
2 Chainz & Juicy J & Lil Wayne – Bandz a Make Her Dance (Remix): The song, produced by Mike WiLL Made It and co-produced by J-Bo, features guest appearances from fellow American rappers Lil Wayne and 2 Chainz. The song peaked at number 11 on Billboard Rap Songs list and number 14 on their Hip-Hop Songs chart, and sold 39,000 copies as reported by Nielsen SoundScan. The track debuted at number 26 on the list of Streaming Songs by Billboard on January 26, 2013. Listen to the Song.
2 Chainz & ScHoolboy Q – What They Want: The song, produced by Mike Will Made It, features a guest appearance by rapper 2 Chainz. "What They Want" was met with generally positive reviews from music critics. The song has since peaked on the US Billboard Bubbling Under R&B/Hip-Hop Singles at number four. Listen to the Song.