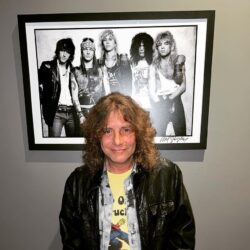 Birthday
January 22, 1965 (58)
Steven Adler is an American musician, chiefly known for his role as the original drummer for the rock band Guns N' Roses. With his tumultuous yet impactful career, Adler's work has significantly shaped the landscape of hard rock and glam metal.
Adler's big break came with Guns N' Roses, with whom he contributed to the iconic 1987 album "Appetite for Destruction," which boasted hits like "Sweet Child o' Mine" and "Paradise City." The album skyrocketed to mainstream success, becoming one of the best-selling albums of all time. Following his departure from Guns N' Roses in 1990, Adler formed his own band, Adler's Appetite, and also played with other groups, solidifying his reputation as a drummer who could capture the essence of rock and roll.
Collaborations have been a crucial part of Adler's journey, enriching his musical tapestry. He has played with Slash and Axl Rose from his Guns N' Roses days, Izzy Stradlin, and Duff McKagan. Beyond that, his musical alliances extend to artists like Steven Tyler of Aerosmith, Lita Ford, Chip Z'Nuff of Enuff Z'Nuff, Fred Coury from Cinderella, and Jack Russell of Great White. He also worked with Tracii Guns from L.A. Guns and John Corabi of Mötley Crüe, among others.
Adler was inducted into the Rock and Roll Hall of Fame as a member of Guns N' Roses in 2012. Additionally, "Appetite for Destruction" has earned multiple Platinum certifications, making it not only a commercial juggernaut but also a critically acclaimed masterpiece.